16 Age of Vice Book Club Questions
Deepti Kapoor's Age of Vice was one of the most awaited novels of 2023, with many comparing it to The Godfather, itself. The novel shines a spotlight on the duality of wealth, pleasure and power – providing readers with an action-packed journey full of suspense, drama and intrigue.
From the sandy villages of Uttar Pradesh to the hustle and bustle of New Delhi, Age of Vice is a tale that follows three lives – an ambitious journalist, a watchful servant, and a playboy heir as their paths become increasingly intertwined.
With immoral business deals, forbidden romances, and shocking violence all playing their part in the narrative, Kapoor's novel is sure to keep readers enthralled until the very end.
Will their connections lead to escape, or will they trigger further destruction?
These book club questions for Age of Vice will help answer these questions and more as we dive into the dark underworld of one of India's most powerful families.
Let's begin.
The post might contain affiliate links. For more information, read our disclosure. Also, these questions contain spoilers.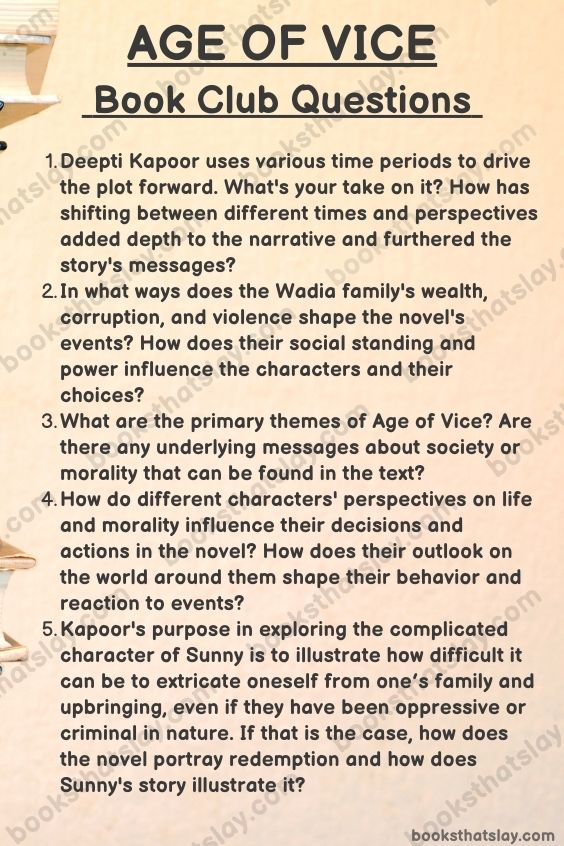 Age of Vice Book Club Questions
Deepti Kapoor uses various time periods to drive the plot forward. What's your take on it? How has shifting between different times and perspectives added depth to the narrative and furthered the story's messages?


In what ways does the Wadia family's wealth, corruption, and violence shape the novel's events? How does their social standing and power influence the characters and their choices?


What are the primary themes of Age of Vice? Are there any underlying messages about society or morality that can be found in the text?


How do different characters' perspectives on life and morality influence their decisions and actions in the novel? How does their outlook on the world around them shape their behavior and reaction to events?


Kapoor's purpose in exploring the complicated character of Sunny is to illustrate how difficult it can be to extricate oneself from one's family and upbringing, even if they have been oppressive or criminal in nature. If that is the case, how does the novel portray redemption and how does Sunny's story illustrate it?


What is the significance of the title Age of Vice? Are there any parallels between this story and the current state of Indian society that can be drawn from its title?


How does Deepti Kapoor use symbolism to further her story's themes? Are there any elements of the story that you felt could have been explored more deeply? What symbols appear throughout the novel, and what do they represent?


In what ways does Ajay, Sunny, and Neda's relationship evolve throughout the novel? How does their dynamic change as events unfold and each character discovers new information?


Neda's portrayal reflects the national tensions plaguing India by highlighting issues such as privilege and class disparity as well as a lack of commitment to her profession. How does this contribute to the overall narrative?


What messages about contemporary Indian society do you take away from reading this novel? How does the portrayal of events and characters in Age of Vice reflect on modern-day India?


Ajay demonstrates loyalty to Sunny by always being willing to do whatever he is asked. Further, the fact that he has been given an opportunity to escape a life of poverty and servitude in his home region motivates him. Do you think he deserved what he got after being so loyal to Sunny?


A spoilt son not being able to take over his father's throne, with the former lacking the cruelty of the latter. If this is the case, to what extent does Sunny's relationship with his father serve as a cautionary tale? How can one avoid the pitfalls of inherited power?


After reading this novel, what's your take on to what extent can crime, corruption, family dynamics and betrayal be reconciled within contemporary Indian society?


Deepti Kapoor's writing captures the essence of modern India through her vivid descriptions and exploration of characters, their motivations and aspirations, as well as a close examination of social issues such as class and gender disparity. What's your take on her writing, and how will you remember this book?


Sunil Rastogi plays an important role in the climax of the film. What's your take on his character development? How did his actions shape the novel's climax and resolution?


Do you think Age of Vice is a socio-political novel? How else would you categorize it?
---
If you liked this set of questions, here are a few other options for you to explore.
Where the Crawdads Sing: Here we have is a haunting and thought-provoking debut novel that explores the profound impact of isolation on a young woman, blending a mesmerizing ode to nature with a gripping coming-of-age tale and a haunting mystery.
Where the Crawdads Sing Book Club Questions
The Sum of Us: Heather McGhee uncovers how racism harms both people of color and white Americans, examining its impact on the economy, public goods, and democracy. Through personal stories and research, she offers a hopeful vision for a more inclusive and prosperous future.
The Sum of Us Book Club Questions
This Tender Land: In 1932, Odie, Albert, Mose, and Emmy escape a harsh Indian school and embark on a life-changing adventure along the Mississippi River. This captivating epic explores their search for home, connecting with diverse souls in a hauntingly beautiful American landscape.
This Tender Land Book Club Questions
Atomic Habits: James Clear presents a practical framework for forming good habits, breaking bad ones, and achieving remarkable results. Learn how to master the tiny behaviors that lead to success and reshape your thinking about progress and success.
Atomic Habits Book Club Questions
The Seven Husbands of Evelyn Hugo: A reclusive Hollywood icon chooses an unknown reporter to tell her scandalous life story. As the tale unfolds, a deep connection forms, revealing tragic ties between their lives. A captivating journey of ambition, friendship, and forbidden love awaits.
The Seven Husbands of Evelyn Hugo Book Club Questions
Don't Forget To Rate This Book. Your Rating Counts!!
[Total Votes:

0

Average Rating:

0

]