Eleanor Oliphant is Completely Fine Book Club Questions
Gail Honeyman's "Eleanor Oliphant Is Completely Fine" is an evocative exploration of the human spirit, the weight of the past, and the transformative power of relationships. Through the lens of Eleanor's life, the story paints a poignant picture of trauma, resilience, and the search for belonging in a world that often feels isolating.
For those who've been touched by Eleanor's journey, it beckons a deeper dive into the layers of her character and the pivotal moments that shape her narrative.
In this blog post, we present a series of detailed book club questions for Eleanor Oliphant is Completely Fine aimed at unraveling the intricacies of the novel and stimulating thought-provoking conversations among readers.
Whether you're revisiting the story or delving into its depths for the first time, these questions promise a richer understanding of Honeyman's masterpiece.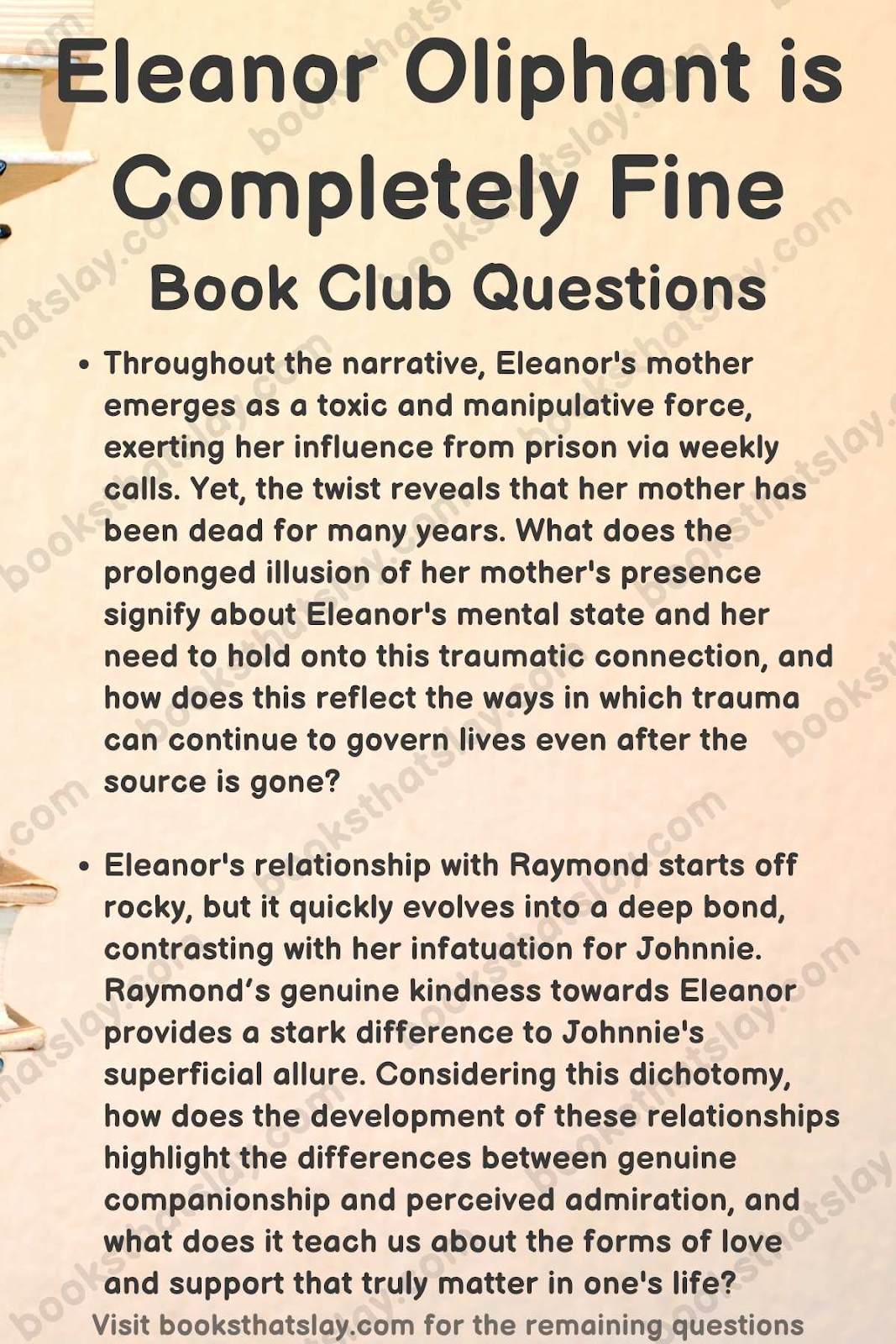 Eleanor Oliphant is Completely Fine Book Club Questions
In the beginning, Eleanor leads a solitary and predictable life. From drinking vodka to her weekend habits of staying home and indulging in classic literature or crosswords, she's formed a cocoon of familiarity.
How does this rigid routine serve as both a protective mechanism and a barrier to personal growth, and what does this reveal about the human need for connection?


Throughout the novel, Eleanor Oliphant experiences a profound journey of self-discovery, which is intertwined with her ability to come to terms with her past and open herself to new experiences, relationships, and opportunities for healing. She struggles with social isolation, which can be seen as a result of both her traumatic childhood experiences and her own protective measures.
How do Eleanor's early interactions, specifically with Raymond, reflect her internal struggles, and how does her changing relationship with him serve as a metaphor for her broader journey from isolation to connection and healing?


Throughout the narrative, Eleanor's mother emerges as a toxic and manipulative force, exerting her influence from prison via weekly calls. Yet, the twist reveals that her mother has been dead for many years.
What does the prolonged illusion of her mother's presence signify about Eleanor's mental state and her need to hold onto this traumatic connection, and how does this reflect the ways in which trauma can continue to govern lives even after the source is gone?


Eleanor's relationship with her past is intricate, shaped significantly by the trauma she endured as a child. Her repressed memories and attempts to deny or reshape certain aspects of her past reflect a protective mechanism that she has developed over the years.
In what ways does the revelation about Eleanor's weekly phone calls with her deceased mother highlight the impact of trauma on memory, and how does the novel suggest that confronting these memories is essential for true healing?


Eleanor's relationship with Raymond starts off rocky, but it quickly evolves into a deep bond, contrasting with her infatuation for Johnnie. Raymond's genuine kindness towards Eleanor provides a stark difference to Johnnie's superficial allure.
Considering this dichotomy, how does the development of these relationships highlight the differences between genuine companionship and perceived admiration, and what does it teach us about the forms of love and support that truly matter in one's life?


The character of Johnnie Lomond serves as a focal point for Eleanor's desires for romantic connection, even if based on a superficial understanding. Despite her infatuation, the reality of who he is starkly contrasts with the image she had constructed.
Given Eleanor's traumatic past and limited social interactions, how does her attraction to Johnnie Lomond offer insight into her desires, fears, and misconceptions about relationships?


Motivated by her infatuation with Johnnie Lomond, Eleanor embarks on an extensive makeover. This transformative process involves buying new clothes, makeup, and even adjusting her hair.
In what ways does this makeover symbolize Eleanor's external attempts to cope with her internal struggles, and how does it comment on society's emphasis on superficial appearances as a means to attain happiness or worthiness?


Dr. Maria Temple, despite Eleanor's initial judgments, plays a pivotal role in guiding her through the healing process. Eleanor's guardedness and skepticism towards therapy is evident from her initial reactions, yet as sessions progress, she begins to unravel layers of her past and emotions.
How does Dr. Temple's approach and interactions with Eleanor exemplify the power and importance of therapeutic relationships in addressing deep-seated trauma and promoting personal growth?


As Eleanor's journey progresses, memories of her traumatic past and her lost sister Marianne surface. These memories are pivotal, not only in highlighting her past traumas but also in revealing her resilience and capacity to heal.
Delving into Eleanor's revelations about the fire and Marianne's tragic death, how does the novel underscore the power of confronting one's past, and what does it suggest about the long and complex journey of healing from profound grief?


Eleanor's relationship with her younger sister Marianne, who tragically died in their childhood, serves as a haunting backdrop to many of her present-day struggles. The weight of the loss and guilt Eleanor feels over Marianne's death has had a lasting impact on her perception of relationships and her own self-worth.
Considering the profound effects of Marianne's loss on Eleanor's psyche, how does this tragedy shape Eleanor's resistance to forming new relationships and her eventual realization about the impermanence and fragility of human connections?
---
Read our other posts
Don't Forget To Rate This Book. Your Rating Counts!!
[Total Votes:

0

Average Rating:

0

]