10 Detailed Reminders of Him Book Club Questions For Disucssion
Prepare to have your heartstrings tugged as Colleen Hoover, the queen of contemporary romance, returns with her novel, "Reminders of Him."
This page-turner offers a refreshing take on this genre as it follows the story of Kenna Rowan, a woman who's just been released from prison after a long enough hall of five years.
With a daughter to reconnect with and a past that haunts her, Kenna sets out on a journey of forgiveness, redemption, and second chances as she grapples with a truth misinterpreted as a lie.
In this discussion guide, I will dive deep into some amazing book club questions for Reminders of Him and why it's a must-read for anyone who is looking to explore how Hoover masterfully weaves together complex characters and emotional dilemmas to create a heartwarming tale that will leave you craving for more.
In case you want to read what the book is about and know my opinion, I have a detailed blog post here – Reminders of Him Book Review.
The post might contain affiliate links. For more information, read our disclosure. Also, these questions contain spoilers.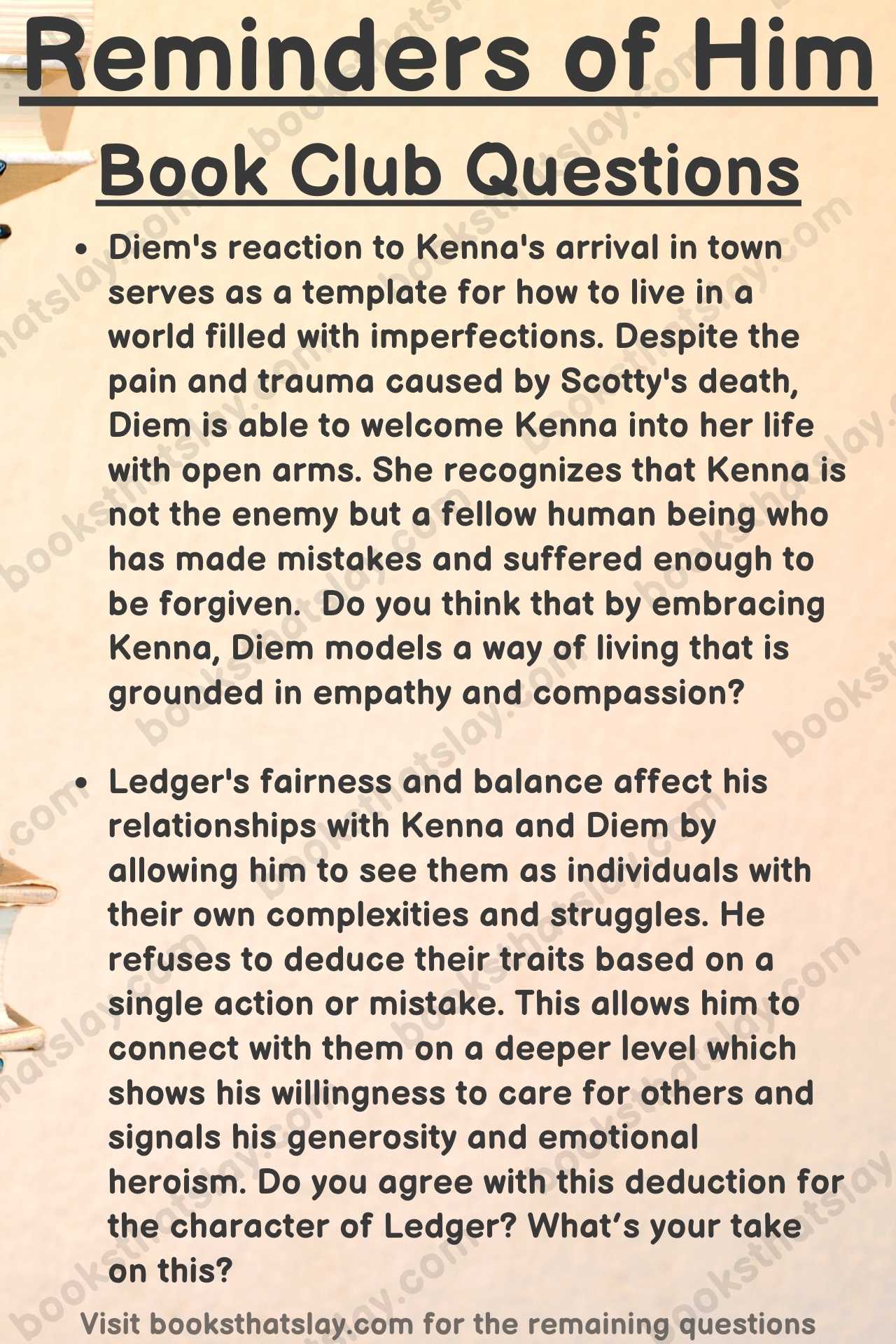 Reminders of Him Book Club Questions
Kenna faces multiple challenges when she returns to her hometown after being released from prison. The first is the emotional trauma of having accidentally caused the death of her boyfriend, Scotty. She also struggles with the guilt of having missed the first five years of her daughter's life.
If you have read the book, you know what the truth regarding Scotty is. Based on that, if you were in place of Kenna, how would you have felt at that very moment?


Initially, Kenna is drawn to Ledger because he is one of Scotty's closest friends and seems to have a good relationship with Diem, her daughter. Over time, their relationship deepens, and Ledger becomes a source of emotional support for Kenna. However, when Kenna realizes that Ledger is the one who is standing in between her and her daughter, she must decide whether to prioritize her relationship with Ledger or her child.
Discuss the way Kenna's relationship with Ledger developed throughout the novel, particularly based on this context of choosing between two of her own.


Which theme did you resonate with the most in this novel?

– the option of second chances where Kenna must navigate the challenges of re-entering society and rebuilding her relationships with her family and her community.
– forgiveness, where Kenna must learn to forgive herself for her role in Scotty's death, and Scotty's parents must learn to forgive Kenna after knowing the truth
– complexities of love and relationships where Kenna and Ledger must navigate their feelings for each other while also trying to do what is best for Diem.

Kenna is unfairly judged and ostracized by the town, which leads to her feeling isolated, eventually leading her to consider leaving the place altogether. Grace's initial judgment of Kenna causes her to demonize her and seek revenge, but when she learns the truth, she is able to forgive her without a second thought. Also, the residents judging Kenna for her misdeeds prevents her from understanding what she is capable of, as evidenced by Ledger's realization that he has misjudged her.
Based on the above context, discuss how the book illustrates how harsh judgments can impact individuals and certain communities.


Ledger's fairness and balance affect his relationships with Kenna and Diem by allowing him to see them as individuals with their own complexities and struggles. He refuses to deduce their traits based on a single action or mistake. This allows him to connect with them on a deeper level which shows his willingness to care for others and signals his generosity and emotional heroism.
Do you agree with this deduction for the character of Ledger? What's your take on this?


Kenna's transformation from "Nicole" to Kenna reflects her emotional journey throughout the novel as she learns to accept and love herself despite her past mistakes. Initially, she creates a new identity to distance herself from her past and the judgment of others. However, as she begins to forgive herself and take responsibility for her actions, she sheds the "Nicole" persona and embraces her true identity once again.
Based on the story of Kenna to Nicole and back to Kenna, discuss how self-identity and acceptance have been explored in the novel.


Diem's reaction to Kenna's arrival in town serves as a template for how to live in a world filled with imperfections. Despite the pain and trauma caused by Scotty's death, Diem is able to welcome Kenna into her life with open arms. She recognizes that Kenna is not the enemy but a fellow human being who has made mistakes and suffered enough to be forgiven.
Do you think that by embracing Kenna, Diem models a way of living that is grounded in empathy and compassion?


Each of the surviving characters is grappling with their own form of grief, whether it is Ledger's guilt and sense of betrayal, Kenna's regret and longing, Scotty's parents' idealization and nostalgia, and Diem's curiosity and wonder.
Discuss how this concept of grief (especially for loved ones) is portrayed in the novel.


Ledger struggles to reconcile his feelings for Kenna with his loyalty to his friend, while Kenna tries to make amends for her past mistakes while also asserting her own identity. Scotty's parents cling to their memories of their son, unwilling to let go of their grief, while Diem navigates the complex world of adults with a mix of curiosity and caution.
What's your take on the way each character in the novel navigated their relationships with one another after Scotty's death?


In the end, the fact that Grace forgives Kenna and welcomes her home suggests that there is hope for healing and reconciliation, but the scars of the past will always be present. At the same time, Diem will be living with her grandparents, showcasing that absolute forgiveness is not possible in reality. Knowing the fact that Kenna was helpless during the accident provides another angle to the mistreatment of Kenna by the locals in her town.
While reading the book, did you for one split second expect Kenna to be a victim of misjudgment? Also, did you find the ending a bit too predictable, or was it just me?
---
If you liked this set of questions, here are some other options for you to explore.
Apples Never Fall: In Liane Moriarty's gripping novel, the Delaney family's idyllic facade crumbles when their mother disappears and their father becomes the prime suspect. As the siblings clash over his innocence, dark secrets from their past emerge, unraveling their shared history in shocking ways.
Apples Never Fall Book Club Questions
West With Giraffes: In the midst of the Great Depression, two giraffes embark on an incredible journey across America, capturing the hearts of a nation and many lessons along the way. West with Giraffes is an emotional and thrilling tale of friendship, love, and the power of stories.
West With Giraffes Book Club Questions
Anxious People: A failed bank robber holds eight strangers hostage during an open house. As tensions rise, secrets are revealed, and unlikely connections form, forcing the robber to face a difficult choice. A poignant comedy exploring compassion and the complexities of the human condition.
Anxious People Book Club Questions
The Four Winds: In the midst of the devastating Dust Bowl and the Great Depression, Elsa Martinelli faces a heart-wrenching decision: fight to preserve her cherished land or embark on a perilous journey to California in search of a brighter future.
The Four Winds Book Club Questions
American Dirt: Experience the heart-wrenching journey of Lydia and her son Luca as they escape the clutches of a powerful drug lord in Acapulco, embarking on a treacherous quest to find safety and a better future in America.
American Dirt Book Club Questions
Don't Forget To Rate This Book. Your Rating Counts!!
[Total Votes:

0

Average Rating:

0

]