12 Detailed The Diamond Eye Book Club Questions For Discussion
In the midst of war-torn Kyiv, a young and studious history student, Mila Pavlichenko, is forced to pick up a rifle and fight against the invading Nazi army.
From bookworm to deadly sniper, Mila soon ends up being one of the most successful persons in her craft, with her count surpassing multiple factors of hundred.
Soon after, she's sent on a goodwill tour to America and finds herself struggling with the wounds of war and the isolation of a foreign land. It's only through a surprising friendship with First Lady Eleanor Roosevelt and a connection with a fellow sniper that Mila soon begins to heal.
Yet, danger lurks in the shadows as an old enemy from Mila's past resurfaces, and a new foe threatens her at every step.
How can she escape this chaos?
Based on a true story, this discussion guide consisting some amazing book club questions for The Diamond Eye will teach you more about this haunting novel of a mother turned soldier, a woman who found her place in the world, and how one person can change the course of history forever once and for all.
The post might contain affiliate links. For more information, read our disclosure.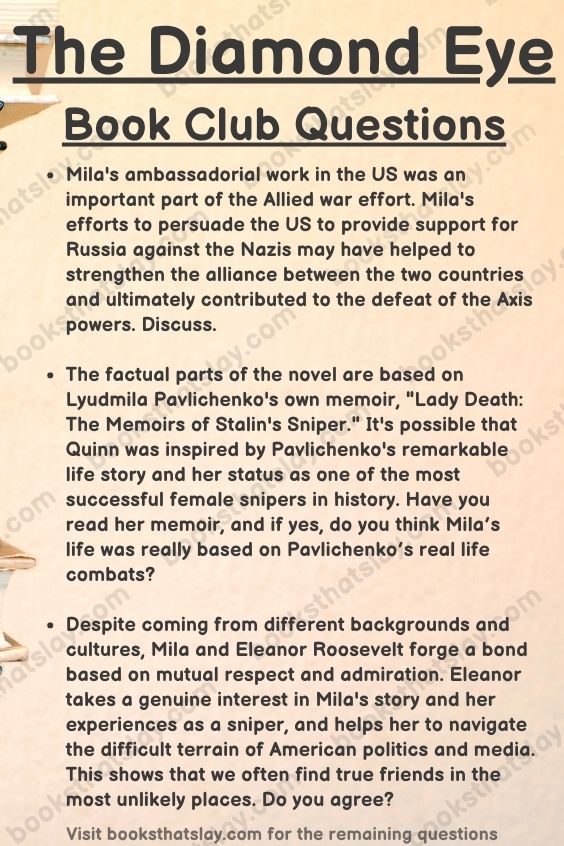 The Diamond Eye Book Club Questions For Discussion
The novel highlights the crucial role that women played in World War II, particularly in Russia. Mila, the protagonist, is a skilled sniper who becomes a valuable asset to the Red Army. She rises through the ranks and eventually commands her own platoon. However, we all know about the harsh realities of life in Russia for women during that time, including the challenges they faced in pursuing their goals and the discrimination they encountered.
Do you think the book has described it accurately?


Despite coming from different backgrounds and cultures, Mila and Eleanor Roosevelt forge a bond based on mutual respect and admiration. Eleanor takes a genuine interest in Mila's story and her experiences as a sniper, and helps her to navigate the difficult terrain of American politics and media. This shows that we often find true friends in the most unlikely places.
Do you agree?


The novel addresses the theme of PTSD by depicting Mila's struggles with the psychological aftermath of her experiences as a sniper. She suffers from nightmares, flashbacks, and other symptoms of trauma. The novel also touches on the impact of PTSD on soldiers and their families and the lack of support and understanding that often surrounds this issue.
Do you know anyone who has suffered from PTSD or anything similar? Would you like to share it with the group? Also, if you have any understanding of such situations, would you like to share anything about it with the group?


The novel blends historical fact with fiction by drawing heavily on Mila's autobiography, The Memoirs of Stalin's Sniper, while also incorporating fictional elements to create a compelling narrative. The author's extensive research into the historical context and the experiences of real-life figures such as Eleanor Roosevelt and Mila allows her to create a vivid and believable world, while also leaving room for creative interpretation and imagination.
What are certain literary elements that you loved about the novel? Any specific thing that you want to highlight?


Similar to The Rose Code, this novel also talks about a specific time during the World War, where women were vital to the success of a specific group. Both of the books are helmed by Kate Quinn.
If you have read the former, which one do you think portrays the issues and problems women faced in a male-dominated field during that particular time?


The novel addresses the issue of political propaganda by highlighting the ways in which the Russian delegation in Washington DC is struggling to convince the American public and media of the truth about the war. Mila, as a woman sniper, is a key part of their propaganda efforts, but she is often met with skepticism and disbelief. The novel also touches on the dangers of political propaganda, including the use of violence and assassination to silence dissenting voices.
Do you agree with the above points? If yes, please discuss.


Mila's background and experiences as a tomboy and amateur sharpshooter from a young age undoubtedly contribute to her success as a sniper. Her skills and training set her apart from many of her peers and allowed her to excel in a male-dominated field. At the same time, her personal losses and experiences of war also shaped her character and drove her to fight for her country.
Did the character of this protagonist motivate you in any way, or you thought that she was way too harsh with others, particularly during the period when she tried to avenge her husband's death?


Mila's ambassadorial work in the US was an important part of the Allied war effort. Mila's efforts to persuade the US to provide support for Russia against the Nazis may have helped to strengthen the alliance between the two countries and ultimately contributed to the defeat of the Axis powers.
Discuss.


The novel likely conveys several themes and messages about war, gender, and identity. One possible theme is the role of women in combat and the challenges they face in male-dominated environments. Another possible theme is the trauma and toll of war on soldiers and civilians alike. The novel may also explore questions of identity and belonging as Mila struggles to find her place as a sniper, a mother, and a woman in wartime.
Out of these three themes, which one resonated with you the most?


The factual parts of the novel are based on Lyudmila Pavlichenko's own memoir, "Lady Death: The Memoirs of Stalin's Sniper." It's possible that Quinn was inspired by Pavlichenko's remarkable life story and her status as one of the most successful female snipers in history.
Have you read her memoir, and if yes, do you think Mila's life was really based on Pavlichenko's real life combats? Also, do you know some other legendary female war figures that we should know about but haven't?
---
If you liked this set of questions, here are some other options for you to explore.
Violeta: In this sweeping novel by Isabel Allende, Violeta del Valle's extraordinary life unfolds across a century of history. From the Spanish flu to the Great Depression, heartbreak to joy, she recounts her unforgettable journey through two pandemics, all with unwavering passion, resilience, and a touch of humor.
The Paris Apartment: In the heart of Paris, Jess seeks refuge with her elusive half-brother, only to find him missing. As she delves into his mysterious life, a web of secrets unravels among the peculiar neighbors, making everyone a suspect in this gripping locked room mystery.
The Paris Apartment Book Club Questions
The Paris Library: In the midst of World War II, a young librarian in Paris joins the Resistance, using the power of books to fight for freedom. Decades later, a curious teenager uncovers a dark secret, connecting their lives across time.
The Paris Library Book Club Questions
The Push: Blythe longs to be the loving mother she never had. But when she suspects something is wrong with her daughter, she questions her sanity, facing a devastating truth that challenges society's beliefs about motherhood and the power of a woman's voice.
The Sweetness of Water: Here we have is a profound debut novel set during the Civil War's end, exploring the unlikely bond between two freedmen and a grieving Georgia farmer. With forbidden romance and healing visions, Nathan Harris crafts an epic tale of humanity and love in the midst of harrowing circumstances.
The Sweetness of Water Book Club Questions
Don't Forget To Rate This Book. Your Rating Counts!!
[Total Votes:

0

Average Rating:

0

]