8 Detailed The Reading List Book Club Questions For Discussion
Have you ever stumbled upon a crumpled piece of paper and felt that your life could change in an instant?
That's exactly what happens to Aleisha, a bright but anxious teenager working at the local library and dealing with her own inner demons. When she finds a list of novels hidden in the pages of a book, she impulsively decides to read every book on the list.
Little does she know that this chance encounter will forge an unlikely friendship with a lonely widower named Mukesh, and help them both find joy again amidst the crisis.
And thus begins a journey of faith, trust, and unique companionship.
This list of book club questions for The Reading List will delve deep into the heart and soul of two humans and help you discover the power of fiction that can bring two different people together in a city where the length of the skyscrapers is inversely proportional to the loneliness surrounding its natives.
The post might contain affiliate links. For more information, read our disclosure. Also, these questions contain spoilers.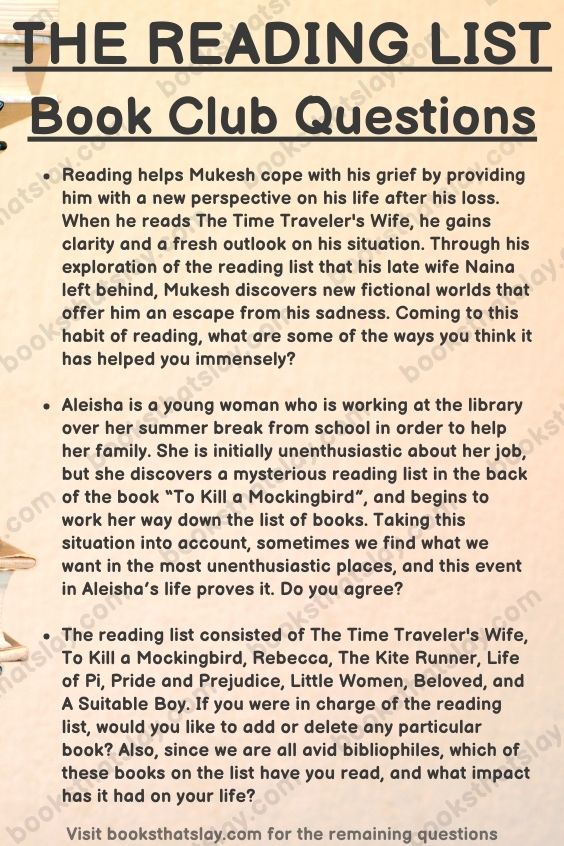 The Reading List Book Club Questions
Reading helps Mukesh cope with his grief by providing him with a new perspective on his life after his loss. When he reads The Time Traveler's Wife, he gains clarity and a fresh outlook on his situation. Through his exploration of the reading list that his late wife Naina left behind, Mukesh discovers new fictional worlds that offer him an escape from his sadness.
Coming to this habit of reading, what are some of the ways you think it has helped you immensely?


Aleisha is a young woman who is working at the library over her summer break from school in order to help her family. She is initially unenthusiastic about her job, but she discovers a mysterious reading list in the back of the book "To Kill a Mockingbird", and begins to work her way down the list of books. Taking this situation into account, sometimes we find what we want in the most unenthusiastic places, and this event in Aleisha's life proves it.
Do you agree?


Through her interactions with Mukesh and her own exploration of literature, Aleisha learns to appreciate the value of reading, and to connect with her mother in new ways. When her brother ends his life, Aleisha is devastated, but Mukesh encourages her to return to books in order to heal. She also becomes more involved in the community, helping Mukesh to organize a drop-in event at the library. Now imagine a scenario where they would not have met in person. How do you think would their individual lives be? How different would it be from what we see in the book? Do you think they could have taken any harsh steps?


The novel explores the power of literature to connect people and offer comfort via multiple ways. Through their shared love of books, Mukesh and Aleisha are able to connect and find companionship, despite their differences in age and background. They are also able to learn more about themselves and each other through their discussions of the books that they are reading.
Discuss how literature is a way to change the way we look at this world. Also, discuss how it can be a great form of escapism from our daily mundane troubles.


The story is told from multiple perspectives, including those of Mukesh, Aleisha, and Naina, and it switches between the past and present tense. This structure mirrors the way in which reading allows individuals to explore different perspectives and connect with people from different backgrounds and time periods.
What is your take on this unconventional narrative structure, and how does it reflect the themes of connection and community?


What do you think the title "The Reading List" represents?

– The list of books that Naina left behind for Mukesh to read.
– A catalyst for Mukesh's exploration of literature, which ultimately helps him to connect with his family and to find meaning and purpose in his life.
– A reflection of the novel's themes of self-discovery, as each character navigates their own reading list and finds new ways to connect with themselves and others.
– The importance of libraries and community spaces, which provide access to reading lists and allow individuals to come together and share their love of literature.


Mukesh's faith and Aleisha's experiences as a young and isolated teenager provide insights into different communities and experiences that readers may not be familiar with. Sara Nisha Adams approaches the representation of an undiagnosed mental illness with compassion and humanity, which helps to break down stigma and promote understanding.
What's your take on Sara's writing style throughout the novel? If she was present at this book club meet, what are some questions you would like to throw at her?


The reading list consisted of The Time Traveler's Wife, To Kill a Mockingbird, Rebecca, The Kite Runner, Life of Pi, Pride and Prejudice, Little Women, Beloved, and A Suitable Boy.
If you were in charge of the reading list, would you like to add or delete any particular book? Also, since we are all avid bibliophiles, which of these books on the list have you read, and what impact has it had on your life? 
---
If you liked this set of questions, here are some other options for you to explore.
Of Mice and Men: Step into a world where dreams and despair collide. 'Of Mice and Men' is a timeless tale of friendship and tragedy, following two unlikely companions as they navigate the hardships of the Great Depression with heartbreaking consequences.
Of Mice and Men Book Club Questions
1984: Step into a dystopian world where Big Brother's watchful eye never blinks. In George Orwell's timeless classic, a man challenges a totalitarian regime that seeks to control every thought, every action, and every aspect of human existence.
Ugly Love: When pilot Miles and practical Tate agree to a no-strings-attached arrangement, they're convinced they can keep their hearts safe. But as passion ignites and rules crumble, love proves to be an unpredictable and beautifully messy force.
The Giver of Stars: In Depression-era America, five remarkable women embark on a daring journey through the Kentucky mountains as part of Eleanor Roosevelt's traveling library, defying convention and bringing books to those who have never had any. An unforgettable tale of friendship, love, and the pursuit of the extraordinary.
The Giver of Stars Book Club Questions
The Guest List: In this chilling thriller set on an Irish island, a wedding celebration turns deadly when a guest is found dead. Secrets, resentments, and dark motives emerge as the search for the killer begins. A twisted Agatha Christie-esque tale of love, jealousy, and murder.
The Guest List Book Club Questions
Don't Forget To Rate This Book. Your Rating Counts!!
[Total Votes:

0

Average Rating:

0

]