10 Detailed A Man Called Ove Book Club Questions
Have you ever met a grumpy old man and judged him for his sour attitude, only to discover a heart of gold hidden beneath his crusty exterior?
That's exactly what you'll experience when you dive into the pages of "A Man Called Ove" by Fredrik Backman. This heartwarming and hilarious tale introduces us to Ove, a cantankerous curmudgeon who appears to be the neighbor straight from hell.
But as we peel back the layers of his life, we discover a story of sadness and a deep well of compassion buried beneath his stubbornness.
When a new family moves in next door, they unintentionally set off a chain of events that will change Ove's life, and the lives of those around him, in unexpected ways.
Get ready to laugh, cry, and fall in love with this unforgettable character and the charming cast of characters that make up his world.
In this discussion guide, we'll have a look at some book club questions for A Man Called Ove and why it's a must-read for anyone looking for a reason to judge a book by its content and not its cover. 
And in case you want to read what the book is about and know my opinion, I have a detailed blog post here – A Man Called Ove Book Review.
The post might contain affiliate links. For more information, read our disclosure. Also, these questions contain spoilers.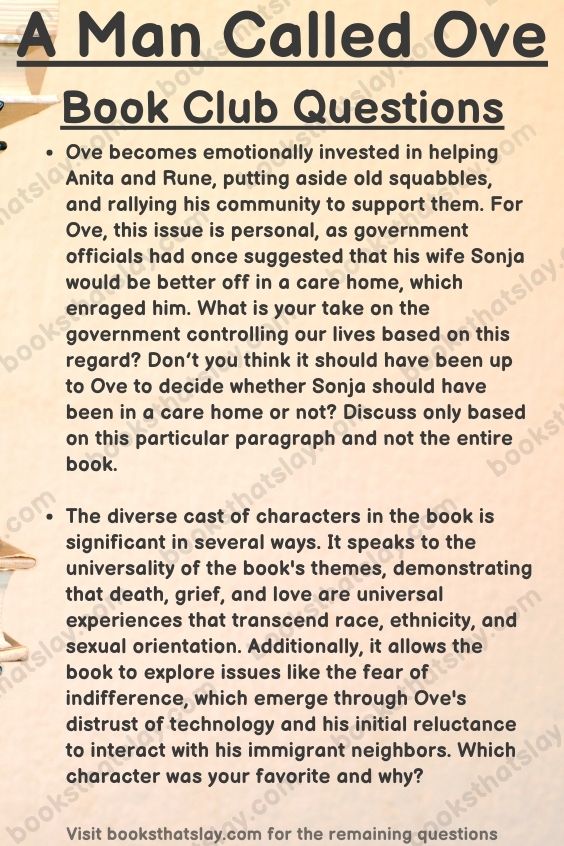 Book Club Questions for A Man Called Ove
Ove's neighbors play a significant role in his transformation from a solitary, bitter man to someone who is open to forming emotional bonds and becoming a part of a community. Parvaneh, in particular, recognizes that Ove may be suffering internally and sets out to keep him occupied and give him a purpose in life. She asks him to help with small tasks, such as caring for a stray cat and teaching her how to drive. Through her persistent kindness and her family's warmth, Ove begins to feel valued and appreciated.
This shows that our surroundings do have a major influence on how we act in our respective lives. Do you agree? If yes, how have your surroundings/neighbors influenced you in your life?


Ove becomes emotionally invested in helping Anita and Rune, putting aside old squabbles, and rallying his community to support them. For Ove, this issue is personal, as government officials had once suggested that his wife Sonja would be better off in a care home, which enraged him.
What is your take on the government controlling our lives based on this regard? Don't you think it should have been up to Ove to decide whether Sonja should have been in a care home or not? Discuss only based on this particular paragraph and not the entire book.


Ove's initial distrust and fear of those who are different from him create a barrier between himself and others. He often judges people based on their ethnicity, and his narrow-mindedness makes it difficult for him to connect with those who do not share his background or values.
Do you think the way Ove overcomes his prejudices and forms close bonds with others is a lesson we all can learn from him?


Ove's gruff exterior and neurotic worldview are presented in a way that is initially unsympathetic, but as the book progresses, the humor helps to peel back the layers of how he came to be that way in a sympathetic manner. The humor also serves to lighten the mood and make the more serious aspects of the story more palatable.
Discuss how Backman's writing style has imbibed humorous elements in order to deal with more serious topics like death and grief in this book.

The diverse cast of characters in the book is significant in several ways. It speaks to the universality of the book's themes, demonstrating that death, grief, and love are universal experiences that transcend race, ethnicity, and sexual orientation. Additionally, it allows the book to explore issues like the fear of indifference, which emerge through Ove's distrust of technology and his initial reluctance to interact with his immigrant neighbors.
Which character was your favorite and why?


Backman's exploration of what is "right" and "wrong" highlights the tension between bureaucratic, legal, and governmental standards and human decency. Ove's experiences with the government's suggestion that his wife should be placed in a care home, and his subsequent involvement in helping Anita and Rune, illustrate the importance of valuing human relationships and empathy over bureaucratic rules and regulations.
Discuss.


Parvaneh's character has a significant impact on Ove's life as she becomes the catalyst for his emotional transformation. She is a persistent and compassionate woman who recognizes Ove's loneliness and depression and intervenes to give him a sense of purpose. Her unwavering belief in him and her determination to make him a part of her family help Ove see the good in the world and change his outlook on life.
Don't you think we all need a person like Parvaneh in our lives?


Throughout the novel, Ove encounters situations where following the rules leads him to nothing but injustice and harm. Ove firmly believes in doing what's right, even if it means going against the rules. This conflict is most apparent in his efforts to help Anita and Rune, where he rallies against the authorities to ensure they are treated justly.
I personally feel that the rule-breaker is the one who wins in life, and A Man Called Ove proves it right. What's your take?

Ove's father's neglect and lack of affection have a significant impact on Ove's personality, making him reserved and withdrawn. However, he also learns to be self-reliant and to value hard work and integrity.
Based on the above context, discuss how much of an influence our parents have on us.

Saving the best for the last, we have to discuss the movie "A Man Called Otto" where I personally feel Tom Hanks did a great job.
If you have seen the movie, what's your take on how good the movie is? Also, comparing the two mediums i.e. movie and book, which was better, according to you?
---
If you liked this set of questions, here are some other options for you to explore.
Into The Water: In a town haunted by dark secrets and a treacherous river, a single mother and a vulnerable teenage girl meet tragic ends. Now, a lonely fifteen-year-old is left to uncover the truth as her aunt returns to a place she swore she'd never revisit. Paula Hawkins delivers another gripping thriller that explores the hidden depths of emotion, memory, and the chilling power of the past.
Into The Water Book Club Questions
The Night Watchman: Louise Erdrich writes this powerful novel based on the extraordinary life of her own grandfather. Set in 1953, it follows Thomas Wazhashk, a Chippewa Council member, and Patrice, a determined young woman searching for her missing sister. With elegant prose and profound themes, Erdrich crafts a compelling tale of love, identity, and the fight against Native dispossession.
The Night Watchman Book Club Questions
The Diamond Eye: Step into the snowbound streets of Kyiv, where Mila Pavlichenko, a quiet bookworm turned deadly sniper, fights Nazis during World War II. From national heroine to a lonely life in Washington, D.C., her journey is a haunting tale of heroism, friendship, and an unexpected duel with her past.
The Diamond Eye Book Club Questions
The Seven Husbands of Evelyn Hugo: Aging Hollywood icon Evelyn Hugo chooses unknown reporter Monique Grant to write her scandalous life story. As Monique delves into Evelyn's tale of ambition, friendship, and forbidden love, she realizes their lives are tragically intertwined.
The Seven Husbands of Evelyn Hugo Book Club Questions
Where The Crawdads Sing: In this hauntingly beautiful story, Kya Clark, known as the Marsh Girl, navigates a world of isolation and suspicion in a small fishing village. Delve into a gripping coming-of-age story, a mysterious death, and the powerful secrets nature holds.
Where The Crawdads Sing Book Club Questions
Don't Forget To Rate This Book. Your Rating Counts!!
[Total Votes:

0

Average Rating:

0

]