10 Demon Copperhead Book Club Questions For Discussion
Welcome to the mesmerizing world of Demon Copperhead, a captivating novel set amidst the breathtaking mountains of southern Appalachia. In the heart of this rugged terrain, a young boy emerges from the shadows of his humble origins—a single-wide trailer and a mother facing insurmountable odds.
Armed with his late father's irresistible charm, fiery copper hair, and a biting sense of humor, he navigates a treacherous journey where survival is the ultimate prize. From foster care to child labor, from shattered dreams to heart-wrenching love affairs, our resilient protagonist battles the ghosts of invisibility in a world where even superheroes have forsaken the forgotten corners of rural America.
Inspired by the timeless works of Charles Dickens, Barbara Kingsolver weaves a tale that resonates with the souls of lost boys and those tethered to their hauntingly beautiful yet cursed homelands.
Step into this modern-day odyssey in this discussion guide, with our amazing list of book club questions for Demon Copperhead where you will learn that triumph, tragedy, and the power of a compelling narrative converge to illuminate the enduring struggles faced by those marginalized by society.
The post might contain affiliate links. For more information, read our disclosure.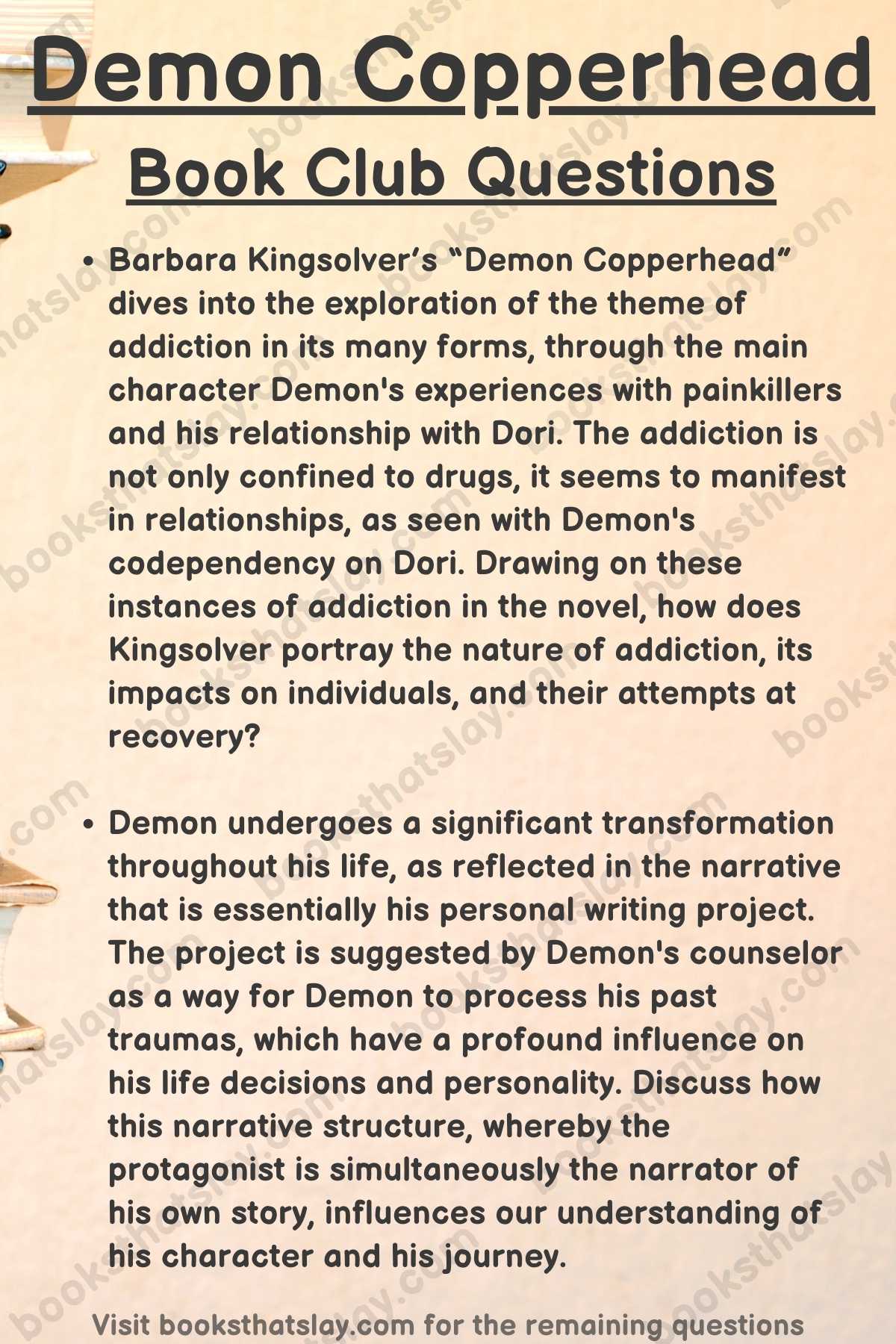 Demon Copperhead Book Club Questions
Barbara Kingsolver's "Demon Copperhead" dives into the exploration of the theme of addiction in its many forms, through the main character Demon's experiences with painkillers and his relationship with Dori. The addiction is not only confined to drugs, it seems to manifest in relationships, as seen with Demon's codependency on Dori.
Drawing on these instances of addiction in the novel, how does Kingsolver portray the nature of addiction, its impacts on individuals, and their attempts at recovery?


One of the central aspects of the novel is Demon's constant search for love, belonging, and understanding, reflected in his relationship with his mother, the Peggots, Mr. Crickson, the McCobbs, and finally Mr. Winfield and Angus. Demon's interactions with these figures seem to shape his identity and self-perception in significant ways.
Discuss how the varying degrees of love, care, and understanding (or lack thereof) in these relationships impact Demon's life journey, shaping his identity and his view of himself.


The story is filled with a myriad of adult figures that Demon interacts with, from the caring Peggots and Aunt June to the abusive Stoner and the exploitative Crickson. Demon constantly seeks for people to believe in, often misguidedly, like his idolization of Fast Forward.
How does Kingsolver utilize these adult characters to explore the need for positive role models in a child's life, and how do these figures impact Demon's life trajectory, both positively and negatively?


Demon undergoes a significant transformation throughout his life, as reflected in the narrative that is essentially his personal writing project. The project is suggested by Demon's counselor as a way for Demon to process his past traumas, which have a profound influence on his life decisions and personality.
Discuss how this narrative structure, whereby the protagonist is simultaneously the narrator of his own story, influences our understanding of his character and his journey.


Kingsolver paints a harsh picture of rural life, especially for the disadvantaged, as seen through the lens of Demon's experiences in Lee County, at Creaky Farm, with the McCobbs, and in Murder Valley. There are recurring themes of poverty, lack of access to resources, and abuse that Demon experiences in these settings.
How does Kingsolver's portrayal of these harsh realities contribute to our understanding of the cyclical nature of poverty, addiction, and trauma in marginalized rural communities?


Kingsolver often uses powerful symbols to further the novel's themes, one of which is the Devil's Bathtub, where Demon's father and later Fast and Hammer meet their tragic ends. This location not only embodies the destructive force in Demon's life but also symbolizes a dark lineage of despair and hopelessness.
How does the recurrent symbolism of the Devil's Bathtub influence our interpretation of the narrative and deepen our understanding of the tragic elements that underlie Demon's life story?


Demon, throughout the narrative, battles his addiction to opiates, a struggle that threatens to irrevocably derail his life. However, he eventually takes the initiative to focus on himself, demonstrating autonomy and the will to change. He rebuilds his life and commits to sobriety, illustrating the theme of self-realization and the importance of autonomy in overcoming addiction.
Discuss the significance of self-realization and autonomy in Demon's journey to overcome this addiction.


The character of Tommy plays a crucial role in revealing the neglected history of Appalachia and debunking societal misconceptions about this region. He becomes a voice for a misrepresented region and its inhabitants. Despite the trials and tribulations he faces, he remains committed to his values and ultimately achieves happiness.
Discuss this role that Tommy plays in the deconstruction and redefinition of Appalachian identity. Also, how does his character challenge and rectify societal misunderstandings about this marginalized region?


The novel is structured like a memoir, with Demon recounting the critical events in his life and reflecting on their impact. This approach allows us to follow his character growth from a helpless child to a self-reliant adult who finds peace within himself. The novel can be read as Demon's personal journey towards self-acceptance and growth, facilitated through writing and reflection.
In what ways does Kingsolver use the memoir format to offer insight into the healing and therapeutic effect of writing, and how does this influence Demon's personal growth and transformation?


The novel reveals a series of devastating instances in which society fails Demon. Starting from his broken home to his experience in the foster system, we observe a severe lack of societal structures to protect and uplift vulnerable children. Notably, this theme encompasses the treatment of Demon by his stepfather, his foster placements, and rejection from his father's mother. All these experiences mold Demon into a radically self-reliant yet distrustful individual.
Based on Demon's story, discuss how does Kingsolver portray society's failure in safeguarding its vulnerable populations, particularly the young guns, including children?
---
If you liked this set of questions, here are a few other options for you to explore. 
The Paper Palace: Miranda Cowley Heller unravels Elle's poignant dilemma as she must choose between her loyal husband and a long-lost love, exploring desire, family secrets, and the haunting consequences of a tragic past. A tender yet devastating tale of love, loyalty, and the complexity of human choices.
The Paper Palace Book Club Questions
An American Marriage: Newlyweds Celestial and Roy's love is tested when he's unjustly imprisoned. A heart-wrenching tale of resilience, longing, and the complex dynamics of love, An American Marriage explores the power of hope in the face of unimaginable obstacles.
An American Marriage Book Club Questions
Into The Water: In a town haunted by mysterious deaths, a lonely teenager and her estranged aunt must confront their darkest secrets as they unravel a twisted web of hidden truths. Paula Hawkins delivers another gripping thriller that exposes the depths of emotion and the power of the past.
Into The Water Book Club Questions
Don't Forget To Rate This Book. Your Rating Counts!!
[Total Votes:

0

Average Rating:

0

]