15 The Measure Book Club Questions For Discussion
Imagine waking up to find a mysterious wooden box on your doorstep, containing the key to your own mortality. The world is consumed by intrigue and curiosity as this enigmatic phenomenon spreads across continents.
In the midst of chaos, eight individuals from different walks of life face a monumental choice: to uncover the precise length of their existence.
The Measure, a captivating novel, follows their interconnected stories, delving into the depths of human nature, friendship, and the pursuit of a meaningful life.
In this discussion guide, we will have a look at some amazing book club questions for The Measure and try to understand how life is something that everyone takes for granted but few only realize its true value.
And in case you want to read what the book is about and know my opinion, I have a detailed blog post here – The Measure Book Review.
The post might contain affiliate links. For more information, read our disclosure. Also, note that these questions contain spoilers.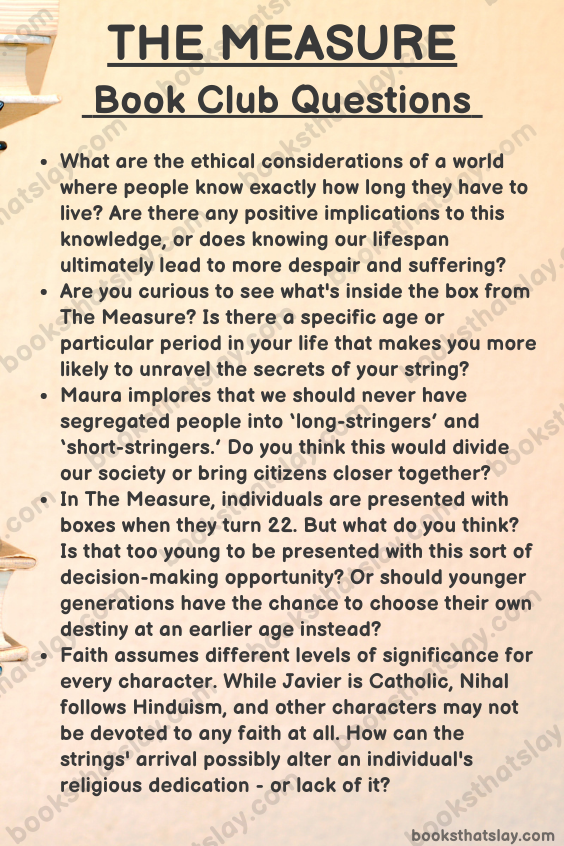 The Measure Book Club Questions
What are the ethical considerations of a world where people know exactly how long they have to live? Are there any positive implications to this knowledge, or does knowing our lifespan ultimately lead to more despair and suffering?


Are you curious to see what's inside the box from The Measure? Is there a specific age or particular period in your life that makes you more likely to unravel the secrets of your string?


Maura implores that we should never have segregated people into 'long-stringers' and 'short-stringers.' Do you think this would divide our society or bring citizens closer together?


In The Measure, individuals are presented with boxes when they turn 22. But what do you think? Is that too young to be presented with this sort of decision-making opportunity? Or should younger generations have the chance to choose their own destiny at an earlier age instead?


Faith assumes different levels of significance for every character. While Javier is Catholic, Nihal follows Hinduism, and other characters may not be devoted to any faith at all. How can the strings' arrival possibly alter an individual's religious dedication – or lack of it?


The world of The Measure is similar to our own, but with a game-changing difference. What makes this version so advantageous? How does the reaction from its fictional society compare and contrast to ours when it comes to strings? Are there any similarities or differences that we should be aware of?


By entering the hospital, Nina fears Maura might encounter numerous biases due to her identity as a Black woman and short-stringer. Does the novel assess how the experiences of short-stringers reflect past or present unfairness experienced by marginalized communities? Moreover, what makes them exceptional from each other?


Does this author understand the sheer number of people in the world? How can they be so sure that only thousands or even millions were affected by this mystery when it had the potential to reach and concern literally everyone?


The common theme of the novel is death. Although not everyone dies at the same time, death is still a part of every individual's life. How do you think each character deals with mortality in their own way?


Is there a connection between Nina's adopted kids and the twins Lea recently gave birth to that we were unaware of? This part seemed enigmatic to me, so I'm curious if this was an intentional reveal or something else.


If Nikki Erlick was present in this book club, would you ask her any questions? What would you like to know about the characters, plot or motivations that drove Erlick to write this story? Or perhaps, as a group, you could speculate how the results of The Measure might have changed if it was released in our world. How do you think people would react?


How do you think Nikki Erlick came up with the idea of The Measure? Are there any similarities between any movie plot or some other book that you know of?


Imagine that you are a character in the book. How would your decisions have been different from what we see in the book? What would be the moral implications of your choice and how would it have changed the outcome for both you and everyone else?


"That the beginning and the end may have been chosen for us, the string already spun, but the middle had always been left undetermined, to be woven and shaped by us." – How does this statement reflect on the characters' journeys and paths in life?


What do you think Nikki Erlick is trying to say about self-determination? Do you think that The Measure and its effects can have a positive outcome for someone's life, even if they are dealing with despair and suffering?
---
If you liked this set of questions, here are a few other options for you to explore.
The Giver of Stars: In Depression-era America, five extraordinary women embark on a daring journey through the Kentucky mountains, defying conventions and braving dangers to deliver books that will change lives. A captivating tale of friendship, love, and the power of knowledge in the face of adversity.
The Giver of Stars Book Club Questions
The Guest List: In a secluded Irish island, a lavish wedding takes a deadly turn. As resentments simmer and secrets unravel, one guest ends up dead. A chilling thriller reminiscent of Agatha Christie, filled with jealousy, intrigue, and a haunting question: Who is the killer?
The Guest List Book Club Questions
The Henna Artist: Alka Joshi paints a vivid and captivating tale of Lakshmi's journey to freedom in 1950s Jaipur. As a sought-after henna artist and confidante to the wealthy, she must guard her own secrets, even when her past catches up with her. A story of resilience, empowerment, and unexpected family ties.
The Henna Artist Book Club Questions
The Reading List: In a London suburb, a widower and a teenage library worker form an unlikely bond through a list of books. As they delve into the stories, fiction becomes their escape, bringing joy and healing to their lonely lives. A heartwarming tale of friendship and the power of literature.
The Reading List Book Club Questions
The Rose Code: In wartime Bletchley Park, three women become codebreakers, united by friendship and torn apart by secrets. Years later, a royal wedding reignites their past, forcing them to confront betrayal and a dangerous enemy. Thus we have The Rose Code: A captivating tale of wartime secrets, friendship, and redemption.
The Rose Code Book Club Questions
Don't Forget To Rate This Book. Your Rating Counts!!
[Total Votes:

0

Average Rating:

0

]