Horse by Geraldine Brooks | Book Club Questions
Join me on a journey through American history as we follow the intertwined stories of a discarded painting, a skeleton in an attic, and the greatest racehorse in the country's history.
Geraldine Brooks, a Pulitzer Prize-winning author, masterfully weaves together the tales of an enslaved groom and a bay foal, an itinerant young artist and a perilous night, a gallery owner obsessed with a mysterious equestrian oil painting, and two individuals in the present day connected by their love for the horse.
"Horse" is a novel that spans generations, delving into the realms of art, science, love, and obsession, while also confronting the unresolved issues of racism in American history.
The post might contain affiliate links. For more information, read our disclosure. Also, these questions contain spoilers.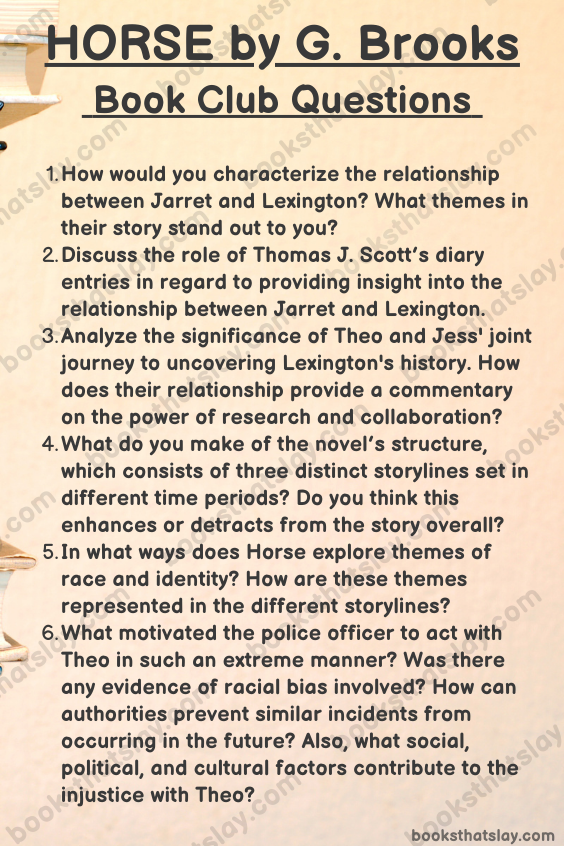 This list of book club questions for Horse (by Geraldine Brooks) will help guide your discussion of this remarkable novel. Let us discover this amazing journey where your strength is tested and the power of how love shines through turbulence and strife.
Book Club Questions For Horse by Geraldine Brooks
How would you characterize the relationship between Jarret and Lexington? What themes in their story stand out to you?
Discuss the role of Thomas J. Scott's diary entries in regard to providing insight into the relationship between Jarret and Lexington.
Analyze the significance of Theo and Jess' joint journey to uncovering Lexington's history. How does their relationship provide a commentary on the power of research and collaboration?
What do you make of the novel's structure, which consists of three distinct storylines set in different time periods? Do you think this enhances or detracts from the story overall?
In what ways does Horse explore themes of race and identity? How are these themes represented in the different storylines?
What motivated the police officer to act with Theo in such an extreme manner? Was there any evidence of racial bias involved? How can authorities prevent similar incidents from occurring in the future? Also, what social, political, and cultural factors contribute to the injustice with Theo?
What was the significance of Thomas J. Scott's paintings in the novel, and what deeper meaning did they convey?
What do you think the writing style of Geraldine Brooks conveys considering it was her 9th book? If you have read any other book by the author, how does it compare?
In what ways does Horse by Geraldine Brooks explore themes of identity, belonging, and loyalty both within its characters and in the context of its historical setting?
How does Annie's role in the story demonstrate the strength found in community, and what are the implications of this?
Assuming Geraldine Brooks was present in this meeting, what kind of questions would you throw at her?
What is significant about Theo's relationship with Jess? How do their professional lives intersect as a result of their affair, and what might this say about contemporary dynamics between people of different backgrounds?
What role do race and class play in Horse by Geraldine Brooks, particularly as they relate to the historical context of 19th-century Southern racing culture?
How did Martha Jackson's horse, Royal Eclipse, play a part in the narrative and what was its significance to Jess's understanding of her family history?
What message does the novel leave readers with, and how can this be used to inform our current-day understanding of the importance of remembering and honoring legacy?
The book combines racing history with colorism. If not for Black men, the legacy of horse racing would not have reached where it is today. What's your take on it?
How did Jarret's experiences differ from those of his peers, and why do you think Harry expressed regret for protecting him?
What is the importance of the photograph featuring Jarret and Lexington together? Why do you think it was included by the author?
How has the neglect of Lexington's legacy mirrored the erasure of Jarret's contributions to American racing history?
In what ways is Jess's mission to properly articulate and label Lexington's skeleton a symbol of justice and redemption?
Do you think Jarret would have raised a great stallion had he not been bred into a family who deals with all-things horses? Did he get all his talent from his father?
Theo challenges Frederick Douglass's claim that there is no realistic art made by White artists depicting Africans as they truly are and that these same creators were blinded by their preconceived notions of what Blackness ought to appear like. What's your stance on this?
How do the novel present legacies, both personal and historical, as something that can be recovered through hard work and dedication? What message do you think this sends?
Examine Brooks' representation of the antebellum South in the novel. What messages does this representation convey?
Martha Jackson was introduced as a symbol of social inequality and power dynamics. Do you agree, and if yes, why?
Don't Forget To Rate This Book. Your Rating Counts!!
[Total Votes:

4

Average Rating:

2.8

]