Losing My Virginity by Richard Branson | Book Summary
Losing My Virginity is an autobiography by Richard Branson, the eccentric billionaire founder of the Virgin Group. Published initially in 1998, the book spans Branson's life from his birth in 1950 to the late 90s. It offers readers an insightful look into the rise of one of the most successful businessmen and brands in the world, demonstrating how he repeatedly defied conventional wisdom to transform his ambitious visions into reality.
Losing My Virginity Summary
The book begins with Branson's upbringing in Surrey, England. He was born to supportive and adventurous parents who encouraged risk-taking. Even as a child, Branson's enterprising spirit was evident. He started several small ventures, which included a Christmas tree farm and a parakeet-breeding scheme.
At the age of 16, Branson launched his first successful business: a magazine called Student. This led to the creation of a mail-order record business, which subsequently evolved into a record shop.
His foray into the music business eventually culminated in the creation of the Virgin Records label. Virgin Records had a rocky start but eventually signed bands like the Sex Pistols and The Rolling Stones, which propelled it to success.
Branson then started a series of ventures, each one more daring and groundbreaking than the last. He launched Virgin Atlantic, a high-end airline that challenged the domination of traditional airline companies. He also founded Virgin Trains and Virgin Galactic, demonstrating his willingness to enter and disrupt established industries.
Throughout the book, Branson shares tales of his life's numerous exploits and adventures. He records his attempts to break various world records, such as the fastest Atlantic Ocean crossing and the first hot-air balloon journey across the Pacific. These adventures underscore his constant desire to push the boundaries and challenge the status quo, both in his personal life and business.
Yet, Branson's journey wasn't always smooth.
The book recounts the many near-death experiences he had during his record-breaking attempts, the numerous business failures he encountered, and the significant challenges Virgin faced, such as the British Airways "dirty tricks" campaign in the 1990s.
Branson's determination to face these challenges head-on has been recounted really well throughout the book.
Losing My Virginity also showcases Branson's distinctive management style and business philosophy. He emphasizes the importance of fun, family, passion, and the courage to take bold risks. 
He advocates for treating employees well and creating businesses that positively impact the world.
The book closes with Branson's reflection on his career and the lessons he has learned. His life is a testament to the power of thinking differently, taking calculated risks, and living life to the fullest.
Despite his vast wealth and success, Branson underscores that his true wealth lies in his experiences, relationships, and the enjoyment he derives from his work.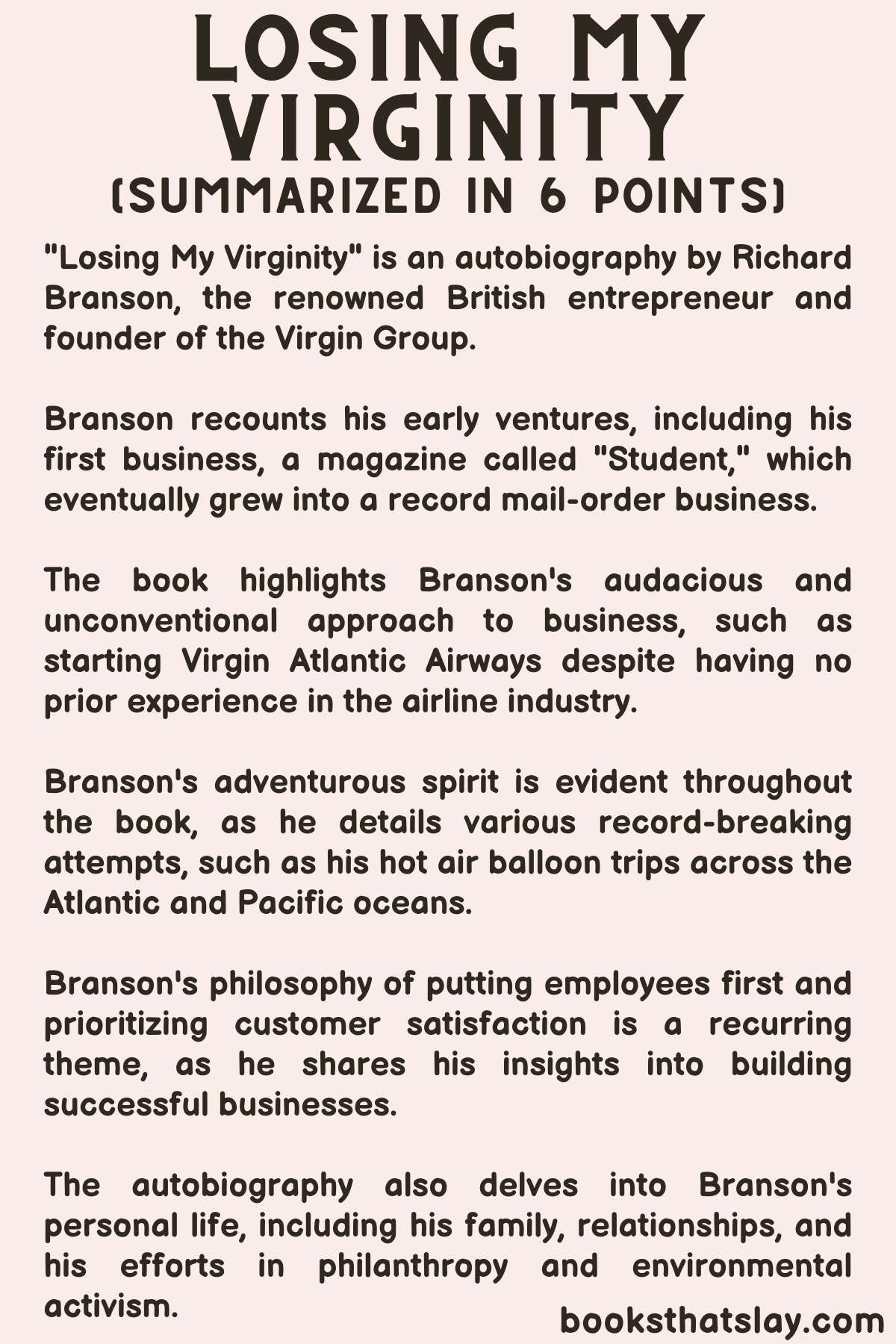 What can you learn from the book?
1. Embrace Risk and Innovation
Branson launched Virgin Atlantic in the 1980s, even when everyone else in the industry told him it would be a fatal mistake.
The prevailing wisdom was that a start-up airline couldn't compete against established giants like British Airways. However, by daring to take the risk and innovating with unique onboard services, he carved a niche for Virgin Atlantic.
This lesson emphasizes the necessity of challenging the status quo and risking failure to achieve significant breakthroughs.
It's about venturing into uncharted territories and setting the bar higher, which often means exploring new, disruptive business models or innovations.
2. Importance of Branding and Customer Service
Throughout the book, Branson underscores the significance of establishing a powerful brand and delivering top-notch customer service.
He cultivated Virgin to be a brand that stood for quality, value, fun, and a sense of challenge. By doing so, he was able to extend the brand into disparate sectors, from music to airlines to telecom and beyond, and customers trusted the brand because they believed in what it represented.
Moreover, Branson's insistence on excellent customer service, such as improving the flying experience on Virgin Atlantic, helped differentiate his companies from competitors.
This lesson signifies the necessity of creating a strong brand image and upholding exceptional customer service to stand out in a crowded market.
3. Employee Engagement and Empowerment
Branson's management style is notably inclusive and empowering, and he firmly believes in the importance of treating employees with respect and giving them the tools and autonomy they need to succeed.
For instance, he established the Virgin Group as a collection of separate entities instead of a monolithic corporation. This structure allowed employees at each Virgin company to feel a sense of ownership and pride in their work.
Branson asserts that this level of empowerment not only increases job satisfaction and retention but also fuels innovation and productivity. This lesson emphasizes the power of a decentralized structure, trust in employees' abilities, and creating an environment that fosters engagement and empowerment.
4. Personal Resilience and Perseverance
From the early struggles of his record business to the intense competition faced by his airline, Branson experienced numerous setbacks.
Despite these difficulties, he continually showed resilience and a refusal to accept defeat.
For example, when British Airways embarked on a "dirty tricks" campaign against Virgin Atlantic, Branson took them to court and won, showcasing his tenacity.
This lesson illustrates the importance of resilience in business, showing that perseverance and an unwavering belief in your vision are often the defining factors between ultimate success and failure.
Final Thoughts
In conclusion, "Losing My Virginity" is an engaging autobiography that provides a detailed account of Richard Branson's unconventional journey to success. It offers invaluable insights into the workings of the corporate world and paints a vivid picture of a man who refuses to live by anyone else's rules but his own.
---
Check out our other summaries
The Monk Who Sold His Ferrari | Book Summary
A masterpiece about transformation, wisdom, and the journey towards a more fulfilling and balanced life underlining the importance of mindfulness, purpose, and the ongoing pursuit of personal growth. 
The Six Pillars of Self-Esteem | Book Summary
A seminal work by psychologist Nathaniel Branden, one of the foremost advocates of the concept of self-esteem and its importance in human life that offers an in-depth exploration of what self-esteem is, why it's essential, and how one can improve it.
The 48 Laws of Power | Book Summary
Unlock the secrets of power with our concise summary of "The 48 Laws of Power." Discover the key principles and strategies that have shaped influential leaders throughout history.
StrengthsFinder 2.0 | Book Summary
A book by Tom Rath based on the premise that individuals are typically more successful when they focus on developing their inherent strengths rather than improving their weaknesses.
The $100 Startup | Book Summary
Revolves around the concept of starting a business with a small investment, often as little as $100, and growing it into a venture that generates substantial income.
Don't Forget To Rate This Book. Your Rating Counts!!
[Total Votes:

0

Average Rating:

0

]