Maybe You Should Talk to Someone | Summary and Key Lessons
"Maybe You Should Talk to Someone: A Therapist, HER Therapist, and Our Lives Revealed" is a powerful and insightful memoir written by psychotherapist Lori Gottlieb. Published in 2019, the book offers a rare and intimate look into the world of therapy from both sides of the couch.
The book is structured around the stories of a handful of Gottlieb's patients, along with her own therapy sessions. Through these narratives, she explores a variety of human emotions and challenges, from grief and regret to love and self-acceptance.
Maybe You Should Talk to Someone Summary
Part 1: Introduction to Therapy
Gottlieb introduces the reader to the world of therapy, not only from her perspective as a therapist but also as a patient. After a sudden breakup with her boyfriend, she finds herself in a crisis and seeks therapy from a therapist named Wendell.
Her vulnerability as a patient contrasts sharply with her professional demeanor as a therapist, offering readers insight into both roles.
Part 2: Patients' Stories
Gottlieb shares detailed anecdotes about some of her most memorable patients. These include:
John, a television writer who seems to have it all but is deeply unhappy.
Julie, a young newlywed dealing with a terminal cancer diagnosis.
Rita, an older woman feeling regret about her life's choices and contemplating suicide.
Through their stories, Gottlieb explores universal themes of love, grief, guilt, and the human quest for meaning.
Part 3: The Therapist's Journey
Parallel to her patients' journeys, Gottlieb takes the reader through her therapy sessions with Wendell. Her self-discovery process sheds light on the human condition, and she becomes more empathetic and understanding of her patients.
Her own personal growth helps her become more in tune with her patients, learning that they're all, herself included, just humans looking for connection and understanding.
Part 4: Insights and Reflections
Gottlieb reflects on the universality of the issues that people face and the healing power of sharing stories. She emphasizes that therapy is not just about "fixing" something but more about understanding ourselves and our connections to others.
She explores the idea that therapists are not all-knowing figures but people themselves, with flaws and imperfections. Her willingness to reveal her struggles allows the reader to see the therapy process more transparently.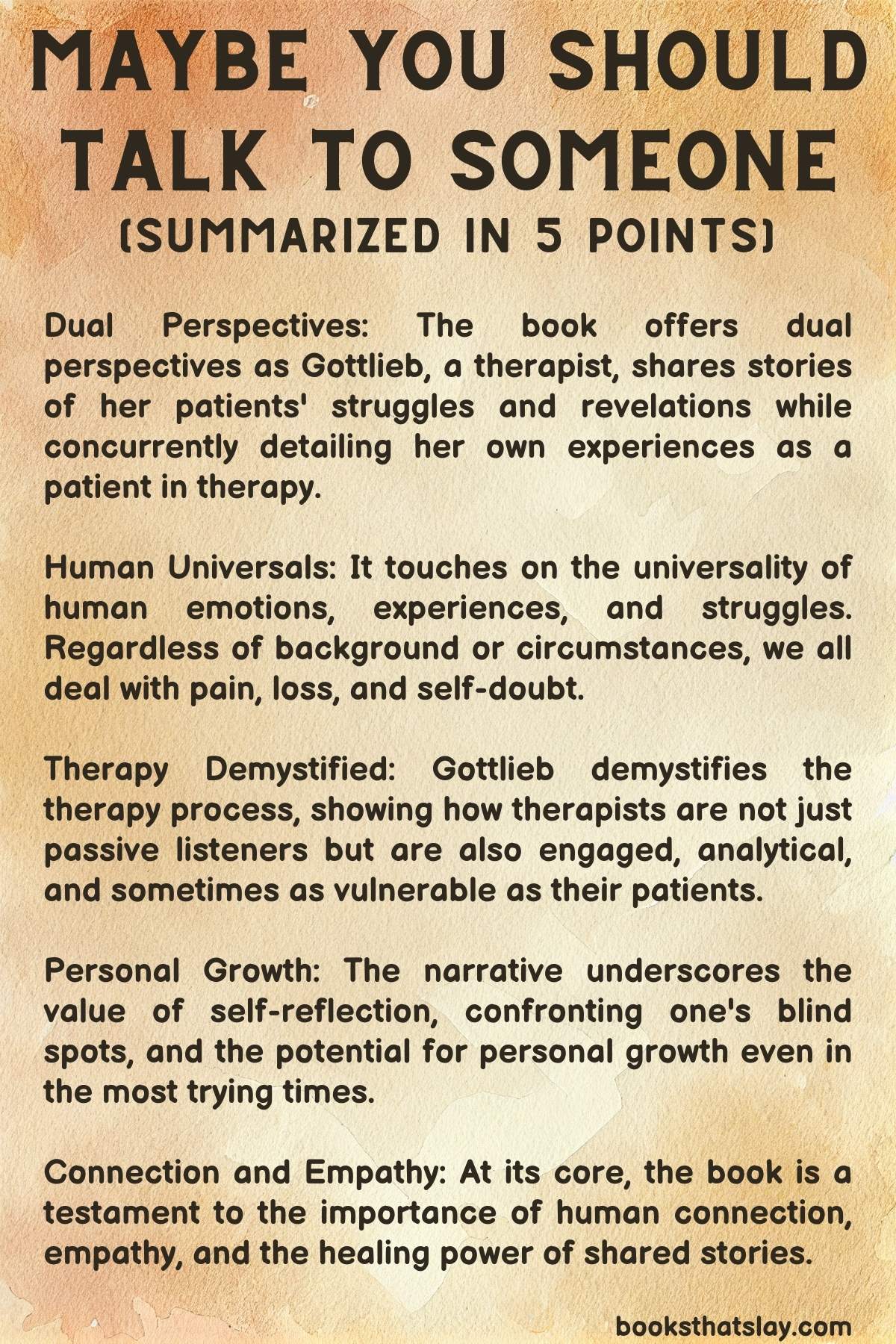 Also Read: Leadership and Self Deception Summary
Key Lessons 
1. The Universality of Human Experience and Emotions
Lori illustrates the idea that everyone, regardless of their background or status, experiences a similar range of emotions and has hidden vulnerabilities.
Through the stories of her patients and her own experiences in therapy, she showcases the common threads that connect human experiences.
For instance, she presents a self-assured Hollywood producer who is struggling with feelings of emptiness. This character contrasts sharply with Lori's own professional success and personal emotional challenges, yet their stories resonate on a profoundly human level.
The lesson here emphasizes empathy, compassion, and the understanding that everyone is fighting a battle that we may know nothing about.
2. The Importance of Self-Reflection and Personal Growth
Gottlieb's dual role as both a therapist and a patient allows us to explore the therapeutic process from both sides. She openly shares her personal struggles, revealing the importance of self-reflection in personal growth.
Her relationship with her therapist, Wendell, is an example of how an external perspective can shed light on blind spots in our understanding of ourselves.
One significant moment in the book is when Wendell helps Lori recognize her pattern of avoiding emotional pain, a realization that leads to personal transformation.
This illustrates the vital role of self-awareness and reflection in recognizing patterns and behaviors that might hold us back from personal growth.
3. The Therapeutic Relationship as a Vehicle for Change
Throughout the book, Lori emphasizes the importance of the relationship between therapist and patient as a tool for healing and transformation. Her interactions with her patients, such as a young newlywed diagnosed with cancer or an elderly woman who feels life has passed her by, underscore the healing power of the therapeutic relationship.
A notable example is her work with a patient named John, a highly critical man who initially resists therapy. Through patience, empathy, and genuine connection, Lori gradually builds a trustful relationship with John, allowing him to open up and address his underlying grief and pain.
The lesson emphasizes that therapy is not solely about techniques or interventions, but rather about the authentic relationship and the empathic connection that facilitates growth and healing.
Also Read: As a Man Thinketh Summary
4. Embracing Change and the Nonlinear Path to Healing
Healing doesn't happen in a straight line, and the book illustrates how progress can be slow, with setbacks and detours along the way. An example of this is seen in Lori's own therapeutic journey with Wendell, where she learns to face a painful breakup and the underlying issues that contribute to her struggles.
Her process is not simple or linear, and she confronts resistance, confusion, and a gradual understanding of her patterns. Similarly, her work with a patient named Julie, who must face an unexpected terminal diagnosis, shows how acceptance and growth can occur in fits and starts.
The lesson here is a reminder that personal development is a complex and often messy process, requiring patience, perseverance, and a willingness to embrace uncertainty and change. This perspective is essential for anyone engaged in self-improvement or healing, offering a more realistic and compassionate understanding of the path to personal growth.
Final Thoughts
"Maybe You Should Talk to Someone" is a compelling examination of human nature, the role of therapy, and the complexities of relationships and self-understanding. Gottlieb's personal and professional insights make the book engaging and relatable.
The memoir stands as a testament to the power of storytelling, empathy, and self-reflection. 
---
Check out our Other Summaries
Don't Forget To Rate This Book. Your Rating Counts!!
[Total Votes:

0

Average Rating:

0

]