10 Detailed The Golden Couple Book Club Questions
Welcome to the tantalizing world of Marissa and Matthew Bishop – the almost picture-perfect couple from the wealthy suburbs of Washington.
They seem to have it all until Marissa's infidelity threatens to tear their seemingly flawless relationship apart. With their eight-year-old son caught in the middle, they turn to Avery Chambers, a therapist with a revoked license whose unorthodox but successful methods have made many jump out of their skin.
As the three collide, the biggest secrets in the room come to light, and it's not just their marriage that's in danger – there's something bigger brewing in the middle.
What's that?

You will have to read the book to find out.
In this discussion guide, we'll have a look at some book club questions for The Golden Couple and why it's a must-read for anyone looking for a rollercoaster ride of emotions that will help one delve deeper into the intricacies of urban lives with unexpected twists and turns.
The post might contain affiliate links. For more information, read our disclosure. Also, these questions contain spoilers.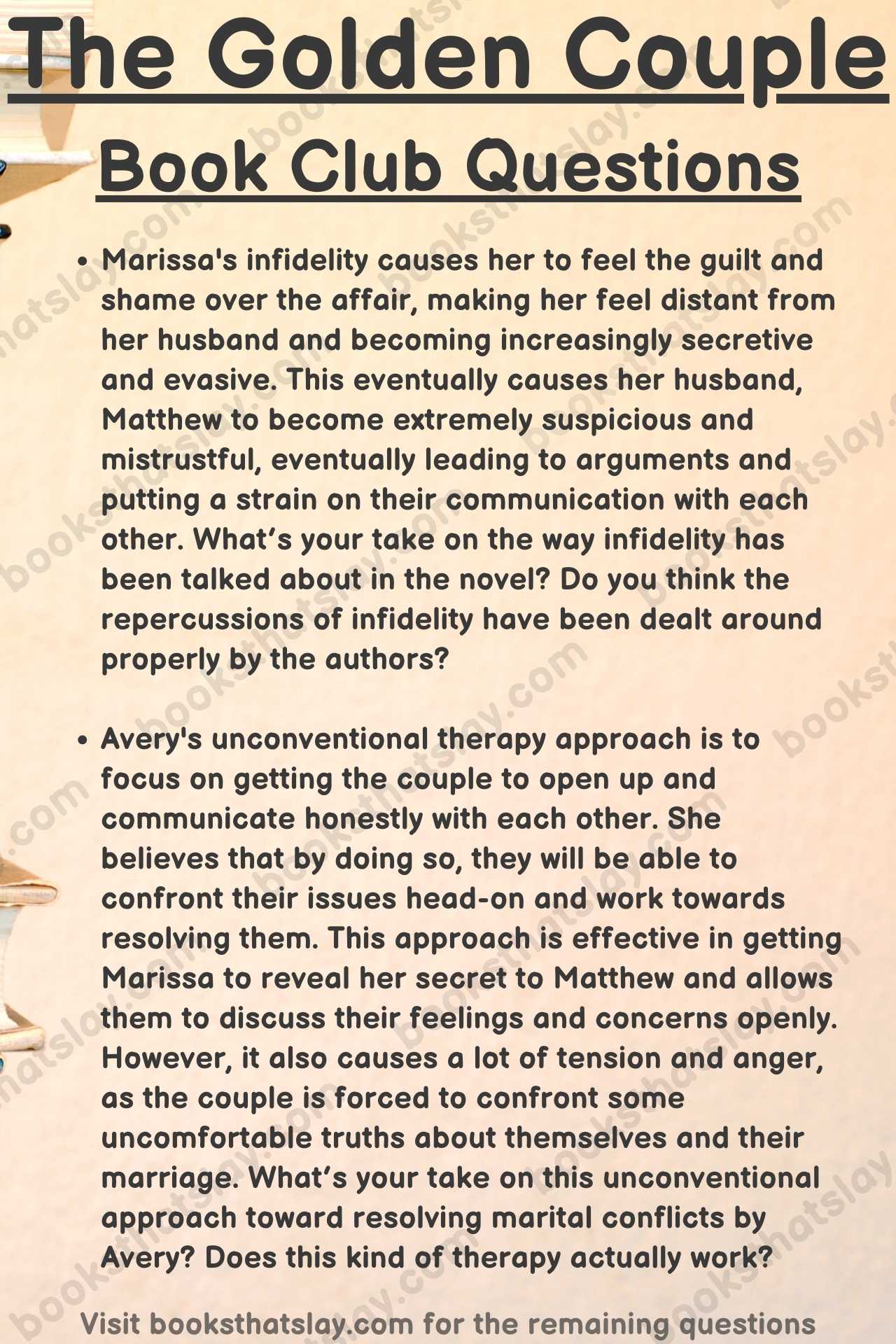 The Golden Couple Book Club Questions For Discussion
Marissa and Mathew's son's awareness of their troubled marriage adds a layer of complexity to the story because it highlights the impact of marital problems on children. The fact that their son knows something is wrong even though Marissa and Mathew are trying to hide it shows that children are often way more perceptive than adults in spite of the lack of credit they receive.
Do you think this also adds a sense of urgency to the story because it becomes clear that Marissa and Mathew's problems are affecting not just themselves but also their child?


Avery's unethical behavior raises questions about what is acceptable in the pursuit of helping others. Her creative, outside-the-line approach may be effective in some cases, but it is also risky and potentially harmful. This forces the reader to grapple with questions about the limits of professional conduct and whether the end result justifies the risks taken.
Discuss.


Marissa's infidelity causes her to feel the guilt and shame over the affair, making her feel distant from her husband and becoming increasingly secretive and evasive. This eventually causes her husband, Matthew to become extremely suspicious and mistrustful, eventually leading to arguments and putting a strain on their communication with each other.
What's your take on the way infidelity has been talked about in the novel? Do you think the repercussions of infidelity have been dealt around properly by the authors?


Avery's unconventional therapy approach is to focus on getting the couple to open up and communicate honestly with each other. She believes that by doing so, they will be able to confront their issues head-on and work towards resolving them. This approach is effective in getting Marissa to reveal her secret to Matthew and allows them to discuss their feelings and concerns openly. However, it also causes a lot of tension and anger, as the couple is forced to confront some uncomfortable truths about themselves and their marriage.
What's your take on this unconventional approach toward resolving marital conflicts by Avery? Does this kind of therapy actually work?


Social media has had a significant impact on relationships, both positive and negative. On one hand, it can facilitate communication and connection between partners and provide a platform for sharing important moments and memories. On the other hand, it can also create pressure to present a certain image and compare our relationships with others. This pressure can lead to feelings of inadequacy and jealousy, eventually contributing to a sense of disconnection and inauthenticity, as seen in the case of Marissa and Matthew.
What's your take on the role of digital mediums, particularly social media, in strained relationships?


Matthew's workaholic behavior distances him from his family and makes him unaware of their needs and feelings. He prioritizes his job over his wife and son and expects Marissa to manage the household and parenting duties alone. Additionally, his neglectful parenting also creates a gap between him and Bennett, who craves his attention and affection.
Contemplating on Matthew's life, how important is work-life balance in a successful marriage?


Marissa struggles with the guilt and shame of her secret and grapples with the consequences of her actions on her family. Matthew feels betrayed and hurt by Marissa's affair and struggles to trust her again. Both of them confront their past traumas, insecurities, and unmet needs that contributed to the infidelity. At the same time, their story also portrays how forgiveness is a gradual process that requires honesty, empathy, and accountability from both partners.
Discuss how themes of honesty and forgiveness are dealt around in the novel.


The sidekicks in the novel are surely something to talk about. Polly represents a younger, more naive version of Marissa who is vulnerable to temptation and deception. Rachel offers a different perspective on marriage and parenting and shows how other couples cope with their issues. Derek represents the consequences of workaholism and the pressure to succeed in corporate culture.
Whom among these three would you resonate with the most? And whom among them did you like and hate the most, respectively?


The authors portray Marissa as a sympathetic character by highlighting her vulnerabilities and the reasons behind her actions. She is presented as a woman who is struggling to maintain a facade of perfection while dealing with the pressures of motherhood, marriage, and societal expectations. Her mistakes are understandable, and as a reader, you can do nothing but empathize with her desire to make things right.
Do you think this character is quite relatable because she represents the struggles many women face in trying to balance their personal and professional lives?


The book's ending is somewhat predictable, but it still provides a satisfying conclusion to the story. The ultimate villain is revealed in a dramatic twist, and the loose ends are tied up neatly. However, as a reader, you may find the resolution of certain subplots unsatisfactory, particularly the fate of the character who is portrayed as a stalker.
What's your take on the ending? Did you like it or would you have preferred a more linear approach?
---
If you liked this set of questions, here are few other options for you to explore:
Our Missing Hearts: In a world ruled by fear, twelve-year-old Bird embarks on a daring quest to find his mother, a Chinese American poet. Through forbidden books, underground librarians, and acts of defiance, he discovers the unbreakable power of a mother's love.
Our Missing Hearts Book Club Questions
The People We Keep: A captivating story set in 1994, following April, a young songwriter in search of her place in the world. With her motorhome as her home, she embarks on a journey, meeting kindred spirits and discovering that her past doesn't define her. A lyrical and empowering tale of finding your own family and embracing the beauty of belonging.
The People We Keep Book Club Questions
The Sentence: In a haunted Minneapolis bookstore, Tookie, a former prisoner with a passion for books, unravels the mystery of a persistent ghost while navigating a year filled with grief, astonishment, and reckoning. This emotionally charged narrative is Louise Erdrich at her most profound.
The Sentence Book Club Questions
The Lost Apothecary: In the shadows of 18th-century London, a female apothecary sells poisons to empower women. Centuries later, a historian's search for answers intertwines her fate with the apothecary's, unveiling a dangerous web of secrets and unexpected consequences.
The Lost Apothecary Book Club Questions
Oh William: In this captivating novel, writer Lucy Barton is drawn into a mysterious journey with her enigmatic ex-husband, William, uncovering a family secret that shatters their perceptions. Elizabeth Strout's poignant exploration of human connections will leave you reflecting on life's profound mysteries.
Oh William Book Club Questions
Don't Forget To Rate This Book. Your Rating Counts!!
[Total Votes:

0

Average Rating:

0

]