12 Detailed Carrie Soto is Back Book Club Questions
Are you ready to delve into the world of tennis with a fierce athlete who is determined to make a comeback that the world might not have seen yet?
Taylor Jenkins Reid's novel takes us on an emotional journey as we follow the legendary player, Carrie Soto, where she attempts to reclaim her record at the US Open – something that is on the brink of being snatched away. Sacrificing everything to become the best, Carrie faces challenges both on and off the court as she navigates through a tumultuous final season.
Join me in this discussion guide as I delve into some of the amazing book club questions for Carrie Soto is Back. As you dive deep into this questionnaire, you might end up considering what it means to go the extra mile in pursuit of your dreams and how Carrie's story can inspire us all.
The post might contain affiliate links. For more information, read our disclosure. Also, these questions contain spoilers.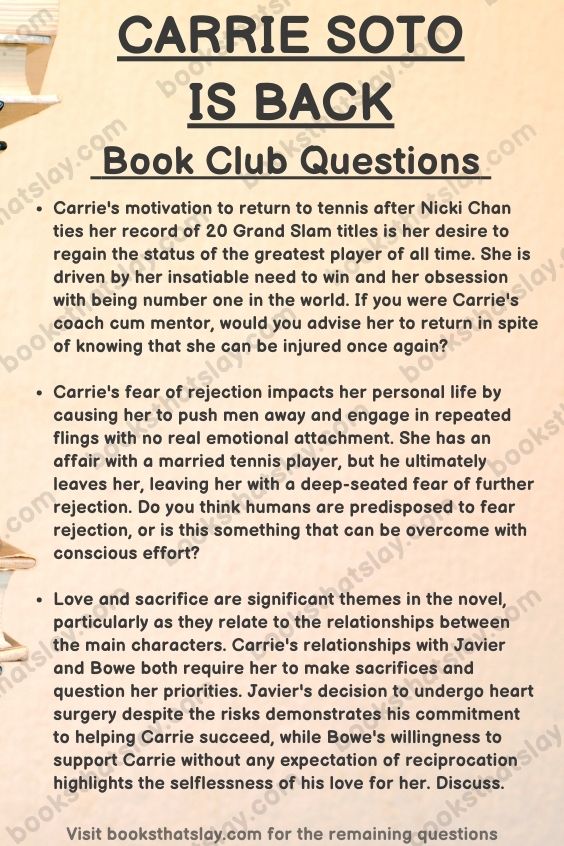 Carrie Soto is Back Book Club Questions for Discussion
Carrie's motivation to return to tennis after Nicki Chan ties her record of 20 Grand Slam titles is her desire to regain the status of the greatest player of all time. She is driven by her insatiable need to win and her obsession with being number one in the world.
If you were Carrie's coach cum mentor, would you advise her to return in spite of knowing that she can be injured once again?


Carrie's fear of rejection impacts her personal life by causing her to push men away and engage in repeated flings with no real emotional attachment. She has an affair with a married tennis player, but he ultimately leaves her, leaving her with a deep-seated fear of further rejection.
Do you think humans are predisposed to fear rejection, or is this something that can be overcome with conscious effort?


Love and sacrifice are significant themes in the novel, particularly as they relate to the relationships between the main characters. Carrie's relationships with Javier and Bowe both require her to make sacrifices and question her priorities. Javier's decision to undergo heart surgery despite the risks demonstrates his commitment to helping Carrie succeed, while Bowe's willingness to support Carrie without any expectation of reciprocation highlights the selflessness of his love for her.
Discuss.


Carrie's reputation as the "Battle Axe" affects her relationships with other players on tour by creating a sense of animosity and rivalry. Her intense focus on winning at all costs and her ruthless competitiveness lead other players to view her as cold and unapproachable. Now, it is often noted that true champions often become cold and ruthless in order to succeed. The same was the case for Michael Jordan, where players referred to him as a player other NBA greats feared.
Do you think such traits are necessary to succeed in sports and athletics, or it's just a myth?


Carrie's relationship with Lars van de Berg differs from her relationship with Javier in that Lars encourages her to jump when she plays, which results in an injury to her knee.
Had Carrie stuck with Javier permanently, do you think it would have enabled her to set a record Nicki Chan might never have surpassed?


Javier's background as a professional tennis player influences his approach to coaching Carrie by instilling in her an insatiable need to win and achieve her status as the greatest. He sees her as a vessel for his unfulfilled dreams of tennis greatness, and he pushes her relentlessly to become the best player in the world. This shows that our parents can have a lasting influence on how we view and approach our own dreams.
Do you agree?


"Carrie Soto is Back" presents a nuanced view of success and achievement, showing that they can come at a cost. Carrie's success as a tennis player requires her to make sacrifices and face significant challenges, including emotional and physical setbacks. At the same time, her experiences with Javier and Bowe demonstrate that success is not the only or most important measure of a fulfilling life.
Discuss.


The turning point for Carrie in deciding to play in the US Open after Javier's death was finding Javier's notebook that detailed strategies for beating every woman in the Women's Tennis Association.
If Carrie did not find that notebook out, do you think she would have been able to make it through the tournament? Why do you think Javier did not present the book to Carrie earlier?


Carrie struggles with losses and setbacks throughout the story. She initially finds it challenging to see the positives in her loss to Cortez at the Australian Open but eventually learns to appreciate her progress. Her loss to Antonovich at the French Open hits her harder, but she finds comfort in Bowe and eventually reconciles with Javier.
What's your take on such similar setbacks in life? How do you handle them, and what steps do you take to stay positive?


The loss in the final didn't destroy Carrie as she thought it would. Instead, she felt relieved for the first time in her life. She realized that she didn't have to be the best tennis player anymore and that she could be whatever she wanted.
Do you think this loss helped her grow as a person and become more than just a ruthless athlete?


Carrie's romantic relationship with Bowe challenges her commitment to tennis and her relationship with Javier, while Javier's health issues further complicate matters. This ends up at its peak when she finds out that Javier is no longer in this world.
As a person who has been through all these situations, do you think that life is a balancing act? Do you feel there is a right time and place for everything, and what Carrie went through is a sign of that?


At the end of the novel, did you, for once, expect Carrie to be Nicki Chan's coach rather than her competitor? Do you think Carrie's story has helped you to understand the importance of relationships and commitment to goals better?
Also, did it make you realize that no matter how good you are, there is always someone better than you?
If you liked this set of book club questions, here are some other options for you to explore.
The Good Sister: Fern, a woman with a meticulously ordered life, sees an opportunity to repay her twin sister, Rose, by offering to have a baby for her. But as Fern delves into this quest, buried secrets and unexpected consequences threaten to shatter their carefully hidden family truths.
The Good Sister Book Club Questions
The Night Watchman: Here we have is an extraordinary novel inspired by Louise Erdrich's grandfather's fight against Native dispossession. With compelling characters, it explores love, identity, and the struggle for survival in the face of oppressive forces. A powerful and compassionate masterpiece.
The Night Watchman Book Club Questions
The World Played Chess: A coming-of-age tale set in 1979, where a young man's summer job on a construction crew becomes a transformative journey, shaping his future and teaching him valuable life lessons amidst the backdrop of Vietnam War veterans and personal growth.
The World Played Chess Book Club Questions
Dinners With Ruth: An extraordinary memoir by NPR correspondent Nina Totenberg, chronicling her remarkable fifty-year friendship with Supreme Court Justice Ruth Bader Ginsburg and their shared journey in breaking down barriers for women while navigating personal triumphs and tribulations.
Dinners With Ruth Book Club Questions
Rock Paper Scissors: A couple's troubled marriage takes a suspenseful turn when they win a weekend getaway. But secrets, lies, and a condition that prevents recognition threaten to unravel everything. An intense domestic thriller by Alice Feeney, the queen of unexpected twists.
Rock Paper Scissors Book Club Questions
Don't Forget To Rate This Book. Your Rating Counts!!
[Total Votes:

0

Average Rating:

0

]