10 Go Set a Watchman Book Club Questions
Get ready to embark on a journey back to the fictional town of Maycomb, Alabama, where Harper Lee's Pulitzer Prize-winning classic "To Kill a Mockingbird" took place. This time, we're reuniting with our favorite character, Jean Louise Finch aka "Scout," who returns home from the bustling city of New York to visit her aging father, Atticus.
But her homecoming isn't as sweet as she hoped it would be, as she discovers some unsettling truths about her beloved family, the town, and the people she holds dear.
In this novel, Lee weaves a thought-provoking tale of transition set against the backdrop of civil rights tensions and political turmoil. It's a heart-wrenching journey of self-discovery and conscience that's sure to leave you with a fuller, richer understanding and appreciation of the author's brilliance.
The post might contain affiliate links. For more information, read our disclosure.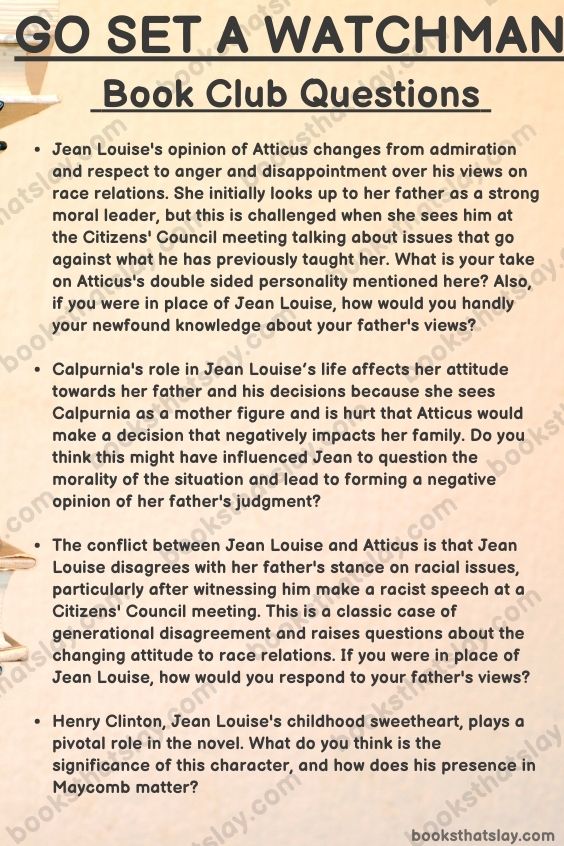 Go Set a Watchman Book Club Questions for Discussion
Jean Louise's opinion of Atticus changes from admiration and respect to anger and disappointment over his views on race relations. She initially looks up to her father as a strong moral leader, but this is challenged when she sees him at the Citizens' Council meeting talking about issues that go against what he has previously taught her.
What is your take on Atticus's double-sided personality mentioned here? Also, if you were in place of Jean Louise, how would you handedly your newfound knowledge about your father's views?


Calpurnia's role in Jean Louise's life affects her attitude towards her father and his decisions because she sees Calpurnia as a mother figure and is hurt that Atticus would make a decision that negatively impacts her family.
Do you think this might have influenced Jean to question the morality of the situation and lead to forming a negative opinion of her father's judgment?


The conflict between Jean Louise and Atticus is that Jean Louise disagrees with her father's stance on racial issues, particularly after witnessing him make a racist speech at a Citizens' Council meeting. This is a classic case of generational disagreement and raises questions about the changing attitude to race relations.
If you were in place of Jean Louise, how would you respond to your father's views?


Henry Clinton, Jean Louise's childhood sweetheart, plays a pivotal role in the novel. What do you think is the significance of this character, and how does his presence in Maycomb matter?


The pamphlet "The Black Plague" reveals that racism is a problem in Maycomb society. It also shows that Atticus is an advocate for racial justice and equality despite being in a community where such views are not popular.
How do you think the pamphlet changes Jean Louise's opinion of her father?


Uncle Jack helps Jean Louise to understand Atticus's position by providing her with a lesson on the history and politics of the South and by helping her to recognize why Atticus might be participating in the Citizen's Council's activities.
Why do you think Uncle Jack is so understanding of Atticus's views, and how does he help to bridge the gap between Jean Louise and her father?


Jean Louise eventually came to terms with her father's views by questioning them and seeing them for what they were rather than expecting them to be in line with what she had always been taught. She realized that her father was just a human being and accepted his views as such.
Do you think we should respect our parents' opinions even if we don't agree with them?


The Title "Go Set a Watchman" explores Jean Louise's journey to discover the extent of the bigotry in her hometown. It comes from Isaiah 21:6: "For thus hath the Lord said unto me, Go, set a watchman, let him declare what he seeth", which alludes to Jean Louise Finch's view of her father, Atticus Finch, as the moral compass ("watchman") of Maycomb.
Discuss.


There were claims that 89-year-old Lee was taken advantage of and forced to let the book be published, contrary to her original wishes. Later on, when it became evident that what had been released wasn't a distinct sequel but an early draft instead, people started asking why the novel had gone public without any explanation or background information.
Have you heard anything regarding the matter? What are your opinions on the controversy?


What is your reaction to book reviewers bashing the book as a whole? For example, Michiko Kakutani from The New York Times expressed the book's characterization as shocking. While Alexandra Petri from The Washington Post called the writing to be laughably bad.
Do you think that it is fair to judge the book based on its characters and their inconsistencies, or should people look deeper into the story's themes to see what Lee was trying to convey?
---
If you liked these questions, here are a few other options for you to explore. 
The Paper Palace: This story follows Elle, a middle-aged woman torn between her loving husband and her childhood flame, as she grapples with a life-altering decision. Exploring desire, trauma, and family dynamics, this poignant tale delves into the complexities of choice and the consequences that follow.
The Paper Palace Book Club Questions
An American Marriage: Newlyweds Celestial and Roy face an unimaginable separation when he is wrongfully convicted and sentenced to prison. As their love is tested, this gripping tale explores the resilience of the human spirit and the power of hope in the face of injustice.
An American Marriage Book Club Questions
Into The Water: In a small town plagued by the dark secrets of a mysterious river, two women's deaths unravel a haunting tale. Paula Hawkins returns with a gripping thriller about hidden emotions, forgotten memories, and the chilling power of the past.
Into The Water Book Club Questions
A Man Called Ove: Meet Ove, the grumpy neighbor from hell. But when a lively young family moves in next door, an uproarious adventure unfolds, thawing his heart and challenging his principles. A tale of unexpected friendship that will shake up his world.
A Man Called Ove Book Club Questions
Don't Forget To Rate This Book. Your Rating Counts!!
[Total Votes:

0

Average Rating:

0

]