12 Detailed I'm Glad My Mom Died Book Club Questions
Have you ever wondered what it's really like to be a child actor?
Jennette McCurdy, star of hit Nickelodeon shows like iCarly and Sam & Cat, knows all too well the ups and downs of fame. In her heartbreaking and hilarious memoir, she shares her struggles with eating disorders, addiction, and a complicated relationship with her overbearing mother.
But it's not all doom and gloom – Jennette's unflinching honesty is peppered with dark humor and a refreshing candor that will have you rooting for her every step of the way.
This list of book club questions for I'm Glad My Mom Died will help you dive deeper into Jennette's story and teach you more about the joys and trials of being a child actor. While discussing it with your fellow bibliophiles, you will realize that you are not alone in your struggles and that there is ample hope in the darkest of times.
The post might contain affiliate links. For more information, read our disclosure. Also, these questions contain spoilers.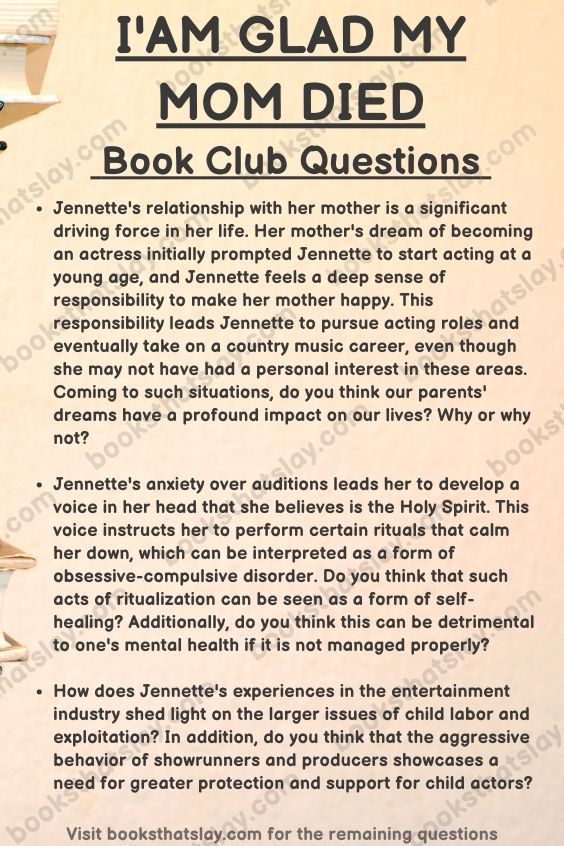 I'm Glad My Mom Died Book Club Questions for Discussion
Jennette's relationship with her mother is a significant driving force in her life. Her mother's dream of becoming an actress initially prompted Jennette to start acting at a young age, and Jennette feels a deep sense of responsibility to make her mother happy. This responsibility leads Jennette to pursue acting roles and eventually take on a country music career, even though she may not have had a personal interest in these areas.
Coming to such situations, do you think our parents' dreams have a profound impact on our lives? Why or why not?


When Jennette's mother was diagnosed with cancer, she felt that, as a child, it was her responsibility to take care of her mother during her illness. The diagnosis and remission also impacted Jennette's beliefs and actions, as she was grateful for her mother's survival and wanted to support her as much as possible.
Do you think this feeling of obligation to take care of a family member during an illness should be expected from children? What would you have done at this very moment if you were Jennette? Would you choose your own happiness or your mothers?


As a child actor, Jennette becomes increasingly aware of her body and worries that her physical changes will affect her acting career. She also learns about calorie restriction from her mother to control her body shape, which can be seen as a manifestation of societal pressure to conform to certain beauty standards.
How does the theme of body image and societal pressure shape Jennette's experiences as a child actor?


Jennette's anxiety over auditions leads her to develop a voice in her head that she believes is the Holy Spirit. This voice instructs her to perform certain rituals that calm her down, which can be interpreted as a form of obsessive-compulsive disorder.
Do you think that such acts of ritualization can be seen as a form of self-healing? Additionally, do you think this can be detrimental to one's mental health if it is not managed properly?


Jennette and her iCarly co-star have different socioeconomic backgrounds, with Jennette coming from a less affluent family. Despite this, the two develop a strong friendship, which highlights the potential for genuine connections beyond class differences. However, the show's creator, Dan Schneider, is known for being emotionally manipulative and aggressive, which can also be seen as a reflection of the power dynamics between actors and showrunners in the entertainment industry.
How does the dynamic between Jennette and her iCarly co-star reflect larger societal issues of class and privilege?


How does Jennette's experiences in the entertainment industry shed light on the larger issues of child labor and exploitation? In addition, do you think that the aggressive behavior of showrunners and producers showcases a need for greater protection and support for child actors?


The book depicts mental health issues such as binge eating, bulimia, and depression as serious and debilitating conditions that require professional treatment. However, it also acknowledges the challenges and stigmas that individuals face in seeking help for these issues.
Do you agree?


Jenette's mother's cancer diagnosis and subsequent relapse caused Jennette a great deal of stress and anxiety, leading her to engage in binge eating and drinking as a way of coping. Additionally, her mother's overbearing and controlling behavior drives Jennette to seek distance and independence, leading to her decision to move out and pursue a secret relationship with a coworker. In life, when faced with tough times and difficult circumstances, how do you think one should approach and cope with the situation? Do you think Jennette's approach is more beneficial or detrimental to her well-being in the long run?


Jennette's relationship with Steven serves as a catalyst for her personal growth and journey toward recovery. His ultimatum forces her to confront her eating disorder and seek professional help. Additionally, Steven serves as a supportive and understanding partner throughout Jennette's struggles, offering a safe and healthy relationship that contrasts with the unhealthy relationships she has had in the past.
How important a role did you think Steven played in Jennette's recovery?


Jennette's relationships with older coworkers and the assistant director she meets in Canada serve as a source of comfort and distraction from her struggles with her mother's illness and her own mental health issues. However, these relationships are also marked by secrecy, shame, and manipulation, ultimately exacerbating her problems.
Discuss.


Steven's conversion to Christianity and his decision to be celibate highlights his need for spiritual fulfillment and transformation. It also suggests his attempt to distance himself from his past behaviors, which may have included promiscuity or addiction.
But this was at the cost of Jennette's relationship with him. What do you think of this decision? Do you think it was a selfless act or just another attempt to get away from Jennette?


The theme of identity is prevalent throughout the story, as both Steven and Jennette undergo significant changes that challenge their sense of self. Steven's rejuvenated belief in Christainity and Jennette's discovery of her biological father both force them to reevaluate their identities.
Discuss.
---
If you liked this set of book club questions, here are some other options for you to explore.
The Sum of Us: Heather McGhee uncovers the hidden connection between racism and America's economic failures, revealing how it impacts both people of color and white individuals. Exploring the root problem, she asks: How did this happen? And is there a way out?
The Sum of Us Book Club Questions
This Tender Land: This Tender Land is a poignant tale set in the summer of 1932, where four young outcasts embark on a courageous journey down the Mississippi River, encountering a vivid cast of characters along the way. A heartwarming epic that celebrates the power of friendship and the unbreakable spirit of the American landscape.
This Tender Land Book Club Questions
Atomic Habits: James Clear provides a practical system for forming good habits, breaking bad ones, and achieving remarkable results. Learn how to overcome obstacles, design your environment for success, and master the science of small habits. Transform your life with this proven framework for progress and success.
Atomic Habits Book Club Questions

The Seven Husbands of Evelyn Hugo: In a captivating tale of fame and secrecy, Hollywood icon Evelyn Hugo entrusts her scandalous life story to struggling reporter Monique Grant, revealing a connection that will change both their lives forever.
The Seven Husbands of Evelyn Hugo Book Club Questions
The Diamond Eye: The Diamond Eye is a gripping historical novel based on the true story of Mila Pavlichenko, a bookish student turned lethal sniper. From the snowbound streets of Kyiv to a dangerous battlefront and a surprising friendship with Eleanor Roosevelt, Mila's journey is about to change the course of history forever.
The Diamond Eye Book Club Questions
Don't Forget To Rate This Book. Your Rating Counts!!
[Total Votes:

0

Average Rating:

0

]