12 November 9 Book Club Questions For Discussion
An emotionally charged novel, reeking of love, betrayal and angst, November 9 by Colleen Hoover is a heartbreakingly honest story about two young teenagers – Fallon and Ben.
The former has been denied of her dreams, owing to fate and the latter is willing to fight for her no matter what. Both decide to part ways (temporarily) and fight for what they want, until eventually, certain circumstances force them to return to each other.
What follows next is a beautiful story about real-life issues, with moments of joy and sorrow. As a reader, you root for both characters as they try to find their way through each other's lives.
This list of book club questions for November 9 will help you delve deep into the novel and have meaningful discussions about this book.
And in case you want to read what the book is about and know my opinion, I have a detailed blog post here – November 9 Book Review.
The post might contain affiliate links. For more information, read our disclosure.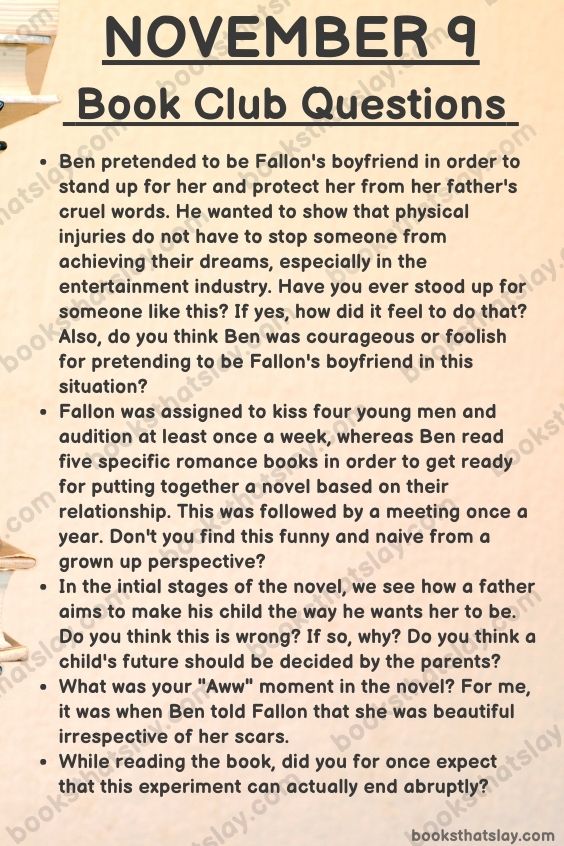 November 9 Book Club Questions For Discussion
Ben pretended to be Fallon's boyfriend in order to stand up for her and protect her from her father's cruel words. He wanted to show that physical injuries do not have to stop someone from achieving their dreams, especially in the entertainment industry. Have you ever stood up for someone like this? If yes, how did it feel to do that? Also, do you think Ben was courageous or foolish for pretending to be Fallon's boyfriend in this situation?


Fallon was assigned to kiss four young men and audition at least once a week, whereas Ben read five specific romance books in order to get ready to put together a novel based on their relationship. This was followed by a meeting once a year. Don't you find this funny and naive from a grown up perspective?


In the initial stages of the novel, we see how a father aims to make his child the way he wants her to be. Do you think this is wrong? If so, why? Do you think a child's future should be decided by the parents?


What was your "Aww" moment in the novel? For me, it was when Ben told Fallon that she was beautiful irrespective of her scars.


The experiment undertaken by Fallon and Ben was an attempt to discover if they could truly have a meaningful connection beyond physical attraction. Through their experiment, they were able to gain a deeper understanding of each other on an emotional level. Do you think a relationship based on an experiment can be successful if the two people are honest and open with each other? Why or why not?


Kyle's death serves to further complicate the relationship between Ben and Fallon. It brings a heightened sense of grief and responsibility for Ben, as he is now tasked with helping Jordyn with her unborn baby. What are some other ways you think this death had impacted the relationship between the two?


While reading the book, did you for once expect that this experiment can actually end abruptly?


Due to the scars on the left side of the body, Fallon's self-assurance has taken a blow, and she is no longer the outgoing person she once was. Her dreams for her future have been diminished as a result of her lack of confidence. How did this make you feel? Does society's beauty standards really matter or do they just give us false insecurities? Do you feel that beauty is skin deep or it's what lies beneath the surface that matters?


Ben arrived at the restaurant with his 10-month-old nephew Oliver and made it known that he and Jordyn had started dating. Why do you think Jordyn decided to embrace Ben as her better half? Was it loneliness, isolation or no moral code of ethics being involved when it comes to choosing a partner?


The multi-narrator approach that Colleen Hoover takes in November 9 is interesting. What do you think was the author's intention? How does it affect your reading of the novel?


Initially, Fallon is shocked and refuses to listen to Ben's explanation for why he wrote about the fire that caused her scars. She believes he might have added this part of the story to make it more dramatic. But the truth at the end was wat beyond what one would expect. Do you think Fallon was justified for not trusting Ben?


What romantic plot motifs does November 9 incorporate? How does its format contrast from the typical romance novel, and how do these differences affect the book's use of tropes? Does it add to or detract from them?
---
If you liked this set of questions, here are a few other options for you to explore.
Atlas of the Heart: Atlas of the Heart takes us on a profound journey through human emotions and experiences. Brene Brown's powerful storytelling and research equip us with the language and tools to connect, understand, and embrace our stories, empowering us to fearlessly explore the vast landscapes of life.
Atlas of the Heart Book Club Questions
The Housemaid: In a desperate bid for a fresh start, our protagonist joins the enigmatic Winchester family. But secrets lurk behind their perfect facade, leading to a chilling game of deception and danger. A captivating, heart-pounding thriller that will keep you up all night.
The Housemaid Book Club Questions
Wrong Place Wrong Time: In a gripping tale of desperation and second chances, a parent is caught in an inexplicable time loop, reliving the days before their son commits a shocking murder. With each morning comes hope and the relentless pursuit of a truth that could alter destiny forever.
Wrong Place Wrong Time Book Club Questions
A Gentleman in Moscow: Immerse yourself in the elegant world of Count Alexander Rostov, sentenced to house arrest in a grand Moscow hotel. With wit, humor, and a captivating cast of characters, this enchanting novel explores the count's quest for purpose amidst tumultuous times.
A Gentleman in Moscow Book Club Questions
The Maid: Molly, a unique and misunderstood hotel maid, becomes the prime suspect in a murder case. With unexpected allies, she embarks on a thrilling quest to unravel the truth and discovers the power of human connection.
Don't Forget To Rate This Book. Your Rating Counts!!
[Total Votes:

0

Average Rating:

0

]