14 We Begin At The End Book Club Questions
Welcome to the small town of Cape Haven, where secrets run deep and murder is just the beginning of a thrilling ride!
In Chris Whitaker's We Begin at the End, we meet Vincent King, fresh out of a 30-year prison sentence for a hit-and-run that left his girlfriend's younger sister dead. But when he returns to his hometown, he sets off a chain of events that lead to even more shocking murders.
With a colorful cast of characters, each with their own secrets and heartbreaking backstories, this book is more than just a murder mystery.
It's a journey through loss, grief, and the search for comfort among ones we once called our own. But as the past comes crashing into the present, it's clear that the secrets of Cape Haven have a devastating impact on everyone involved.
This list of book club questions for We Begin at the End will help you with some solid discussion points for you and your fellow bibliophiles to ponder upon.
The post might contain affiliate links. For more information, read our disclosure. Also, these questions contain spoilers.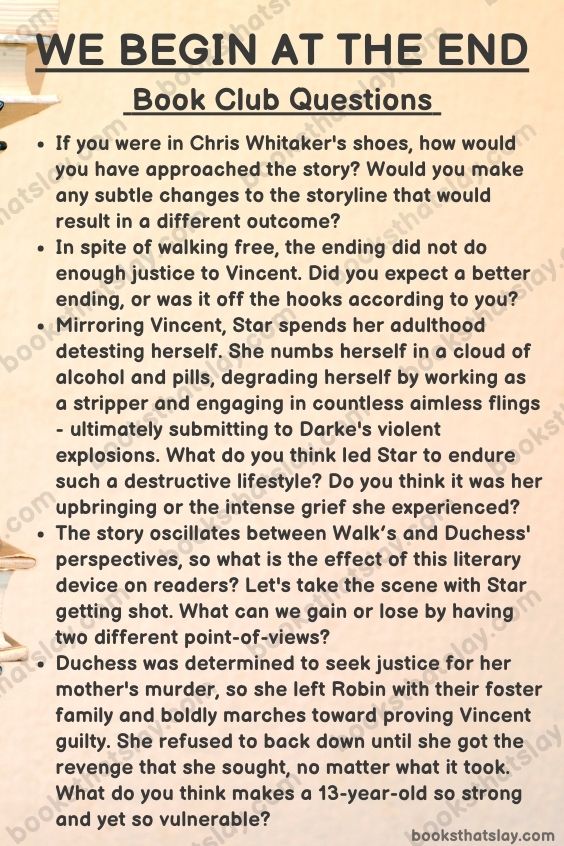 We Begin At The End Book Club questions
At the young age of 15, Vincent King was found guilty of a hit-and-run accident in which he had taken the life of Star Radley's beloved younger sister. Later on, during his stay in prison, another man met their fate due to an altercation with King and subsequently caused him to face additional charges. Why do you think someone would land in the world of crime at such a young age? Although a surprise awaits in the end, do you think minors commit such deeds because of family issues, peer pressure or something else?


Vincent's best buddy since high school, Walk, is currently the chief of police in his town. Despite his suspicions that Vincent may be guilty of Star Radley's murder, Walk chooses not to launch an investigation and instead opts for trusting his old friend. What do you think Walk was thinking during that point of time? Was it a leniant friend talking or it had something to do with deeper emotions?


Determined to protect herself from any potential repercussions of her behavior, 13-year-old Duchess – Star's feisty and independent daughter – seizes the club's surveillance video. Do you think she did the right thing to protect the dignity of her mother, or did she go too far?


After Star's death, Duchess and Robin must relocate to the unfamiliar landscape of Montana, where they will live with Hal, their distant grandfather who works as a rancher. With no prior knowledge or familiarity with him, it would be an understatement to say this transition is going to be difficult for them. Do you think one must be courageous to make such drastic changes, or do you believe there are different elements that come into play?


Did Hal do the right thing by adding twenty-plus years to Vincent's sentence or was it unfair? Do you think justice had been served, or did the punishment outweigh the crime? As a person who believes that common individuals should not take the law into their own hands, how would you have reacted in a similar situation? Also, if Vincent was present at that very moment, how would you think he would have reacted?


Walk's deteriorating health casts a looming shadow of urgency, compelling him to act swiftly and recklessly in order to save his friend from incarceration. His ill health motivates the decisions he makes throughout the story as time is rapidly running out for both himself and his beloved companion. What's your perspective on this? Do you think Walk should have focused more on his health, or was it a no-brainer for him to break the rules if it meant saving someone's life?


Duchess was determined to seek justice for her mother's murder, so she left Robin with their foster family and boldly marches toward proving Vincent guilty. She refused to back down until she got the revenge that she sought, no matter what it took. What do you think makes a 13-year-old so strong and yet so vulnerable?


The story oscillates between Walk's and Duchess' perspectives, so what is the effect of this literary device on readers? Let's take the scene with Star getting shot. What can we gain or lose by having two different point-of-views?


Vincent experienced the repercussions of being incarcerated in more ways than one. Not only did he lose his freedom, but he also had to grapple with unjust guilt and public humiliation from a trial where he was wrongfully accused. A lot of people in the States have been wrongly convicted in the past – how do you think this should be addressed? Do you think we deserve a better judiciary or, as common people, we are just helpless in the face of injustice?


Mirroring Vincent, Star spends her adulthood detesting herself. She numbs herself in a cloud of alcohol and pills, degrading herself by working as a stripper and engaging in countless aimless flings – ultimately submitting to Darke's violent explosions. What do you think led Star to endure such a destructive lifestyle? Do you think it was her upbringing or the intense grief she experienced?


If you were in Chris Whitaker's shoes, how would you have approached the story? Would you make any subtle changes to the storyline that would result in a different outcome?


Walk is that true friend Vincent had. His friendship proved that everyone deserves a chance and that no one should be judged solely on their past. Do you think it's right for someone to forgive and forget, or do you think such acts can come back to haunt them in the future? Also, how important is it to withhold friendships like these that will stand the test of time?


In spite of walking free, the ending did not do enough justice to Vincent. Did you expect a better ending, or was it off the hooks according to you?


A tragic hero is one who is essentially good, yet his fate is determined by a higher power. They often go through some sort of transformation or redemption, which makes them more sympathetic and compelling to readers. Was Hal the tragic hero of We Begin at the End? Do you think such characters should be celebrated or condemned?
---
If you liked this set of questions, here are a few other options for you to explore.
The Measure: In a world where everyone receives a mysterious box revealing the exact number of years they'll live, "The Measure" follows eight ordinary individuals facing an extraordinary choice. Their fates intertwine, unveiling the power of knowledge and the consequences of their decisions.
The Measure Book Club Questions
Harlem Shuffle: Step into the vibrant streets of 1960s Harlem with Ray Carney, a furniture salesman and secret crook. In this electrifying tale of heists and double lives, Colson Whitehead delivers a hilarious, thrilling, and heartfelt love letter to a legendary era.
Harlem Shuffle Book Club Questions
November 9: In a whirlwind romance, Fallon and Ben's yearly encounters blur the lines between reality and fiction. Colleen Hoover weaves an unforgettably bittersweet tale of love, heartbreak, and the power of storytelling in this captivating novel.
November 9 Book Club Questions
The Magnolia Palace: Step into the secrets of a Gilded Age mansion and a modern-day museum as two women, connected by fate, navigate treacherous webs of scandal, romance, and murder in this gripping tale of art, ambition, and the hidden truths that lie within.
The Magnolia Palace Book Club Questions
The Dictionary of Lost Words: Here is a captivating tale of Esme, a young girl who embarks on a secret mission to save forgotten words and women's experiences from being overlooked. Set in a time of suffrage and war, this lyrical novel celebrates the profound impact of language.
The Dictionary of Lost Words Book Club Questions
Don't Forget To Rate This Book. Your Rating Counts!!
[Total Votes:

0

Average Rating:

0

]