15 The Dictionary of Lost Words Book Club Questions
Step into the world of words with Esme, a curious and motherless girl who spends her childhood in the Scriptorium, a garden shed in Oxford where her father and his team of lexicographers are collecting words for the first Oxford English Dictionary.
In this captivating tale, we follow Esme as she discovers the power of language and the importance of recording words that are often overlooked, especially those that relate to women's experiences.
As the women's suffrage movement gains momentum and the Great War looms, Esme secretly creates her own dictionary, The Dictionary of Lost Words. Join us as we delve into this delightful and thought-provoking celebration of words and their ability to shape the world around us.
This list of book club questions for The Dictionary of Lost Words will help you and your fellow bibliophiles explore and understand the novel in a much better way. You will understand how different social movements in history have shaped our language and how we can pay tribute to the lost words of our past.
The post might contain affiliate links. For more information, read our disclosure. Also, these questions contain spoilers.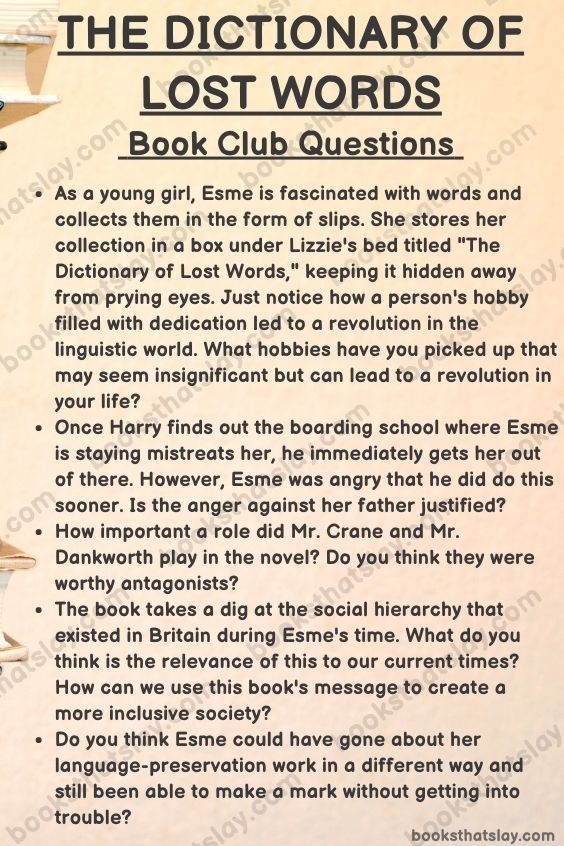 The Dictionary of Lost Words Book Club Questions
The book talks about the suffrage movement for women's voting rights. Initially originating from ancient Greece and Rome, the movement gained prominence in the UK during the third decade of the 19th century. Women were denied the right to vote, and their opinions were not cared for. How much justice did the book do in portraying the atrocities against women and their struggles for basic rights during that period of time?


Esme's enthusiasm for words not typically found in the dictionary reflects a lack of vocabulary that accurately describes women and their experiences, including those related to womanhood and puberty. Through her effort to collect these words, Esme is preserving them from being forgotten or lost while simultaneously demonstrating her admiration for the language. Why and how do you think this act of creating and preserving the elements of a language, though inappropriate, is important?


Do you think Esme, in spite of being born into an upper-middle-class family, could not accept and take advantage of the privileges that she was born with?


Esme Nicoll, daughter of Harry who was a devoted editorial assistant to Dr. Murray. This was the time during the composition of the first Oxford English Dictionary in their Scriptorium. The Dictionary was going to be full of words her father gathered while working on this monumental project. If you were given a chance to be a part of that project, how would you have reacted, and what would you have done differently?


Back when I was young and extremely ambitious about learning new words, I remember how I used to check new words in the Oxford dictionary and make sure that I understand the meaning of words correctly. What importance does the Oxford dictionary hold in your life? Also, do you remember the rivalry between Oxford and Cambridge?


As a young girl, Esme is fascinated with words and collects them in the form of slips. She stores her collection in a box under Lizzie's bed titled "The Dictionary of Lost Words," keeping it hidden away from prying eyes. Just notice how a person's hobby filled with dedication led to a revolution in the linguistic world. What hobbies have you picked up that may seem insignificant but can lead to a revolution in your life?


Once Harry finds out the boarding school where Esme is staying mistreats her, he immediately gets her out of there. However, Esme was angry that he did do this sooner. Is the anger against her father justified?


The word 'bondmaid' means a 'female bond servant'. We all know that during the times when slavery was accepted, women were treated as property and made to work without any rights or payments. Then, why would someone omit this word from the largest dictionary in the world? How this act of omission affects our understanding and appreciation of language that aims at creating an equitable society?


Did you find it funny that such a heavy word like "Scriptorium" would be the name of a shed? I mean, I thought at first that it would be some grandiose and well-equipped office space! But, when I found that out, I obviously chuckled a bit.


How important a role did Mr. Crane and Mr. Dankworth play in the novel? Do you think they were worthy antagonists?


The book takes a dig at the social hierarchy that existed in Britain during Esme's time. What do you think is the relevance of this to our current times? How can we use this book's message to create a more inclusive society?


Do you think Esme could have gone about her language-preservation work in a different way and still been able to make a mark without getting into trouble?


Forming a women's dictionary is important because it can provide language recognition and empowerment for marginalized female voices, as well as preserving words that may be forgotten or overlooked by the mainstream English language if not documented in writing. Do you agree with the above statement after reading the book?


Esme's journey highlights the importance of self-discovery and growth. Throughout her story, she faces many challenges, such as loss, pregnancies out of wedlock, and discrimination due to her gender and class status. Despite these difficulties, Esme perseveres by relying on her inner strength and courage, which allows her to grow into a more confident woman who is unafraid to stand up for what she believes in. How does her journey affect your perception of the struggles that women face in society?


Esme's deep and profound relationship with the language serves as the novel's conduit for themes such as class structures, gender disparities, the potential inability of words to express extreme emotions, and the violence inflicted on women. Do you think that language has the power to evoke emotion, and why?
---
If you liked this set of questions, here are a few other options for you to explore.
The Magnolia Palace: In the heart of New York City's Gilded Age, secrets, betrayal, and murder haunt the grand Frick mansion. Decades later, a determined model and an aspiring curator uncover hidden messages that could unravel a deadly mystery and change their lives forever.
The Magnolia Palace Book Club Questions
November 9: Fallon and Ben's fateful encounter sparks a whirlwind romance on her final day in L.A., intertwining their lives in a yearly tradition. But as doubts arise, truth blurs, and trust wavers, the ultimate plot twist awaits in this captivating tale of love and deception.
November 9 Book Club Questions
We Begin at the End: In a coastal California town, a police chief haunted by a painful past reunites with his imprisoned childhood friend. Meanwhile, a fearless thirteen-year-old girl fights to keep her broken family together. Love, resilience, and the triumph of the human spirit intertwine in this extraordinary tale by Chris Whitaker.
We Begin at the End Book Club Questions
The Personal Librarian: Step into the extraordinary life of Belle da Costa Greene, J.P. Morgan's personal librarian. A captivating tale of power, secrecy, and identity, as Belle navigates New York's elite circles with her dangerous secret, defying the racist norms of her time. A must-read historical journey of resilience and ambition.
The Personal Librarian Book Club Questions
Remarkably Bright Creatures: Tova finds solace in her job at the aquarium and an unexpected connection with Marcellus, a wise octopus. Together, they unravel the mystery of her son's disappearance, offering a heartwarming tale of friendship, resilience, and the power of uncovering hidden truths.
Remarkably Bright Creatures Book Club Questions
Don't Forget To Rate This Book. Your Rating Counts!!
[Total Votes:

0

Average Rating:

0

]