12 The Bullet That Missed Book Club Questions
Get ready to put your detective skills to the test as we dive into "The Bullet That Missed" by Richard Osman, the third installment in the thrilling Thursday Murder Club series.
In this sequel to The Man Who Died Twice, the club's members are back to their usual antics, sipping drinks and gossiping as they try to solve the murder of Bethany Waites – a promising young news reporter whose mysterious disappearance questions everyone around her.
Soon enough, things take a shocking turn when the man who confesses to her murder turns out to be innocent, and Bethany's true whereabouts are revealed.
With unexpected twists and turns, this discussion guide consisting of some of the best book club questions for The Bullet That Missed will ensure that you not only have a fun and engaging conversation with your book club members but also gain a deeper understanding of the novel's intricate plot and complex characters.
The post might contain affiliate links. For more information, read our disclosure. Also, these questions contain spoilers.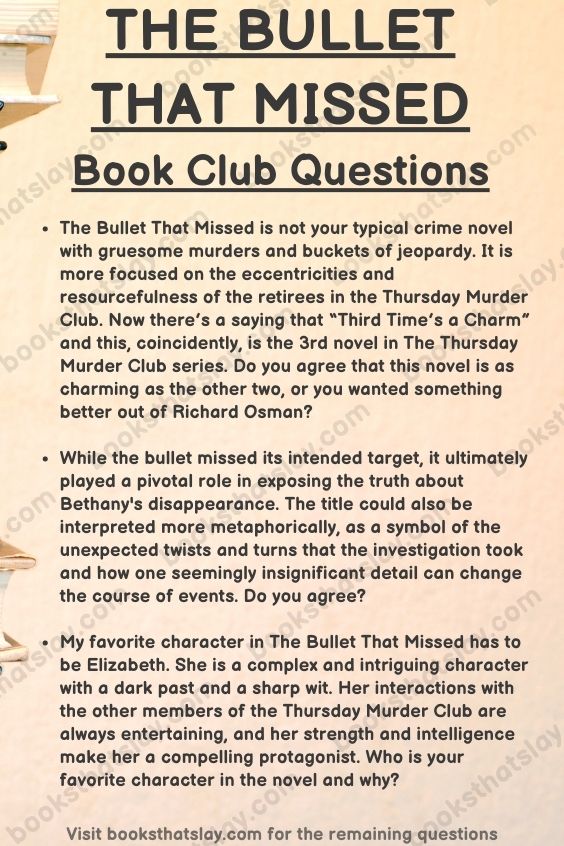 The Bullet That Missed Book Club Questions For Discussion
The Bullet That Missed is not your typical crime novel with gruesome murders and buckets of jeopardy. It is more focused on the eccentricities and resourcefulness of the retirees in the Thursday Murder Club. Now there's a saying that 'Third Time's a Charm' and this, coincidently, is the 3rd novel in The Thursday Murder Club series.
Do you agree that this novel is as charming as the other two, or you wanted something better out of Richard Osman?


Elizabeth's battle with Stephen's developing dementia adds a heart-wrenching element to the story. It shows the human side of the characters and adds depth to their relationships. It also shows how the retirees are dealing with the challenges of aging and the difficulties that come with it. And finally, it there is a minor mention of dementia from the previous novel.
Discuss how Osman perfectly weaves the narrative by including elements of his previous novels into the third one.


Richard Osman's writing is characterized by his sense of humor, warmth, and empathy. He is able to weave together complex plots with humor and heart-wrenching moments, creating a unique reading experience. Now, writing genuinely funny prose is not an easy bet, but Osman does it perfectly.
What's your take?


The portrayal of aging in The Bullet That Missed is positive and empowering. The retirees in the Thursday Murder Club are not portrayed as helpless or weak because of their age. They are shown as resourceful, intelligent, and capable individuals who can still make a difference and solve complex crimes.
Do you think that we, as a society, haven't done enough justice to aged people? Also, there has been a lot of instances of age-shaming nowadays. What's your take on it?


Viktor Illyich, the former head of the Leningrad KGB, played a critical role in the investigation by providing Joyce and her team with valuable information about the tax fraud scheme. He was also instrumental in confronting Andrew and securing his confession. However, some members here will, in contrast, admire Viktor's experience and resourcefulness, while others may criticize his past as a KGB agent and question his motives.
Which side are you?


While the bullet missed its intended target, it ultimately played a pivotal role in exposing the truth about Bethany's disappearance. The title could also be interpreted more metaphorically as a symbol of the unexpected twists and turns that the investigation took and how one seemingly insignificant detail can change the course of events.
Do you agree?


Coming to the central part of the story, Bethany faking her own death could have had multiple conclusions. Given the danger she was in, you can't but sympathize with her owing to the numerous investigations. On the other hand, she is also a part of criticism owing to the emotional turmoil she caused Mike and her loved ones.
What's your take on the multiple conclusions provided here?


Richard Osman uses the criminal characters in the book to comment on society and its values. The characters represent the dark underbelly of society, where money and power reign supreme. He also exposes the corruption and criminal activity that exists behind the scenes and shows how these characters are able to evade justice due to their wealth and connections. Looking at this, one can say that injustice is one of the many traits of modern society.
And eventually, the ones that suffer are the weak and juvenile. What's your take on this?


The Thursday Murder Club is motivated to investigate the murder of Bethany Waites because of their personal connection to her co-host and friend, Mike Waghorn. They believe that the police did not adequately investigate her disappearance and are determined to find out what happened to her.
Now eliminate the personal connection. Do you think the club would still be interested in the case?


My favorite character in The Bullet That Missed has to be Elizabeth. She is a complex and intriguing character with a dark past and a sharp wit. Her interactions with the other members of the Thursday Murder Club are always entertaining, and her strength and intelligence make her a compelling protagonist.
Who is your favorite character in the novel and why?
---
If you liked this set of book club questions, here are some other options for you to explore.
Our Missing Hearts: In a dystopian America where dissident children are being relocated, 12-year-old Bird embarks on a perilous quest to find his estranged mother, a Chinese American poet. Guided by folktales and aided by underground librarians, his journey may ignite a much-needed revolution.
Our Missing Hearts Book Club Questions
The People We Keep: A poignant story set in 1994, following April, a young songwriter seeking her place in the world. With music as her guide, she embarks on a journey to find her true home, discovering the power of chosen family and the freedom to define her own identity.
The People We Keep Book Club Questions
The Sentence: In a haunted Minneapolis bookstore, Tookie, a former inmate turned book salesperson, faces a year filled with grief, astonishment, and a ghostly mystery. Louise Erdrich weaves a rich and emotional narrative that explores the depths of the living, the dead, and the power of reading.
The Sentence Book Club Questions
The Lost Apothecary: A secret apothecary sells poisons to free women from abusive men. Centuries later, a historian's discovery links her to a haunting past, setting off a dangerous collision of lives.
The Lost Apothecary Book Club Questions
Oh William: In this exquisite novel, writer Lucy Barton and her enigmatic ex-husband, William, embark on a journey to unravel a long-held family secret, delving into the complexities of human connections and the hidden truths that bind us together.
Oh William Book Club Questions
Don't Forget To Rate This Book. Your Rating Counts!!
[Total Votes:

0

Average Rating:

0

]