14 The Man Who Died Twice Book Club Questions
Are you ready to solve a new mystery with The Thursday Murder Club?
Richard Osman's sequel to the first book takes readers on a gripping ride through a retirement village, packed with humor, fast-paced action, and intricate plotlines. With its witty tone, empathetic portrayal of elderly characters, and serious themes of mortality, aging, friendship, and revenge, the novel has become a New York Times bestseller just like its predecessor, captivating readers around the world.
In this blog post, I'll delve deeper into the story and explore some book club questions for The Man Who Died Twice that will help you and your fellow bibliophiles know more about the book and its plot.
The post might contain affiliate links. For more information, read our disclosure. Also, these questions contain spoilers.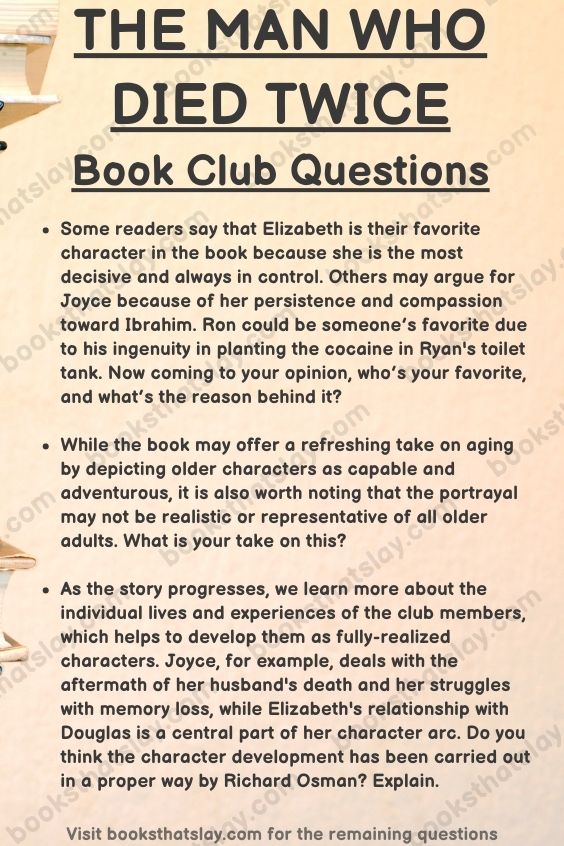 The Man Who Died Twice Book Club Questions For Discussion
While the book may offer a refreshing take on aging by depicting older characters as capable and adventurous, it is also worth noting that the portrayal may not be realistic or representative of all older adults. What is your take on this?


Comparing The Man Who Died Twice to its predecessor is a matter of personal preference. Some readers may prefer one book over the other, while others may enjoy both equally. Ultimately, it comes down to the individual reader's taste and what they are looking for in a book.
What's your take on the book being the worthy sequel of The Thursday Murder Club? Does Richard Osman's humor sell well here?


Some readers say that Elizabeth is their favorite character in the book because she is the most decisive and always in control. Others may argue for Joyce because of her persistence and compassion toward Ibrahim. Ron could be someone's favorite due to his ingenuity in planting the cocaine in Ryan's toilet tank.
Now coming to your opinion, who's your favorite, and what's the reason behind it?


Ibrahim has a photographic memory and can recall specific details, which helps the group piece together clues. Let us discuss 3 instances in the novel where his memory came in handy.


The novel's final chapter uncovers the real meaning behind "the man who died twice," which relates to Sylvia Finch's spouse, Dennis, and the impact of his dementia. Sylvia perceives that she lost Dennis twice: first, to the alienating consequences of dementia, and second, to death.
Would you like to provide any valuable input regarding this condition of dementia for our book club members? If any of your near and dear ones suffer from the same, how is he/she coping with the situation?


The club members take it upon themselves to bring Ryan to justice after the police are unable to build a case against him. They use their unique skills and life experience to come up with a plan that ultimately leads to Ryan's arrest. The book also highlights the corrupt and criminal elements of society that often go unpunished due to a lack of evidence or resources. Rightful justice is further reinforced by the resolution of Douglas's storyline, where he faces the consequences of his actions and eventually pays for his crimes.
With all this happening, do you think the theme of justice has been fully and properly explored in the novel?


The characters who have the most power, such as Martin and Andrade, are also the most corrupt and willing to do whatever it takes to maintain their control. What is your take on power being one of the other main themes in the novel?


As the story progresses, we learn more about the individual lives and experiences of the club members, which helps to develop them as fully-realized characters. Joyce, for example, deals with the aftermath of her husband's death and her struggles with memory loss, while Elizabeth's relationship with Douglas is a central part of her character arc.
Do you think the character development has been carried out in a proper way by Richard Osman? Explain.


20 million dollars worth of diamonds. Don't you think it's a lot of money to steal? Imagine if you woke up one day and realize that you have that much amount of money – what would you do? Please don't answer something like Sell on Ebay.


One thing to look out for in "The Man Who Died Twice" is the relationship between Chris and Patrice. At the end of the first book, Donna introduces Chris to her mother, Patrice, and we saw that they hit it off quite well.
Do you think this mother-daughter relationship will stand the test of time?


"And if one is never lost in life, then clearly one has never traveled anywhere interesting." Was it a metaphorical sentence, or has it got anything to do with traveling?
Also, if the latter is true, as travelers, what's your take on travel being the best thing to do in life?


Martin betrays Andrade by stealing his diamonds, and Andrade betrays Martin by threatening him and hiring hitmen. Sue betrays Douglas and Poppy by planning to steal the diamonds and leaving them to die. She also betrays Elizabeth by trying to have her killed and planting false evidence to mislead her. Elizabeth, on the other hand, is loyal to her friends and seeks justice for the victims.
Do you think the book explores the motives and consequences of betrayal, and how it affects relationships and trust in the right way?


We get to see two new villains in the novel. First is Connie Johnson – a young drug dealer and queen pin of the Fair Haven drug scene while the other is Lomax, who Osman describes as the most evil man in the world.
Do you think the Lomax's unique job is what makes him a much more appealing villain combined to the former?


The novel can be seen as a playful and self-aware take on the classic mystery genre, with nods to Agatha Christie and other detective writers. The retired characters of the Thursday Murder Club are both respectful and irreverent towards the genre's tropes and often use their age and status to subvert expectations. The novel also includes several red herrings and false leads and plays with the reader's expectations of who the killer might be.
After reading the novel, do you think we have found the right replacement for Christie in this very century, considering Osman has got some terrific mystery-writing skills?
---
If you liked this set of book club questions, here are some other options for you to explore.
Verity: Lowen Ashleigh, a struggling writer, uncovers a chilling secret in bestselling author Verity Crawford's unfinished autobiography. As her feelings for Verity's husband grow, she faces a moral dilemma that could shatter their lives forever.
The Personal Librarian: The Personal Librarian unveils the captivating tale of Belle da Costa Greene, J.P. Morgan's brilliant librarian with a dangerous secret—her African American heritage. Witness her rise to power, her artful deception, and her unwavering determination in a world defined by prejudice and inequality.
The Personal Librarian Book Club Questions
Age of Vice: In a world of money, pleasure, and power, a shocking accident sets off a chain of events in New Delhi. Unravel the dark secrets of the wealthy Wadia family as three lives collide, entwined by desire, greed, and revenge. A gripping tale of crime, love, and corruption in modern India.
Age of Vice Book Club Questions
Remarkably Bright Creatures: Tova finds solace working at an aquarium and befriends Marcellus, a wise octopus. Together, they unravel the mystery of her missing son, offering hope and a chance for a new beginning.
Remarkably Bright Creatures Book Club Questions
Horse: A Pulitzer Prize-winning novel intertwining the lives of an enslaved groom, a talented artist, a determined gallery owner, and two passionate researchers, all connected by a legendary racehorse. Spirit, obsession, and injustice across American history unfold in this captivating tale of art, science, and the fight against racism.
Don't Forget To Rate This Book. Your Rating Counts!!
[Total Votes:

0

Average Rating:

0

]