10 The Silent Patient Book Club Questions for Discussion
In the heart of London's most desirable area, a famous painter named Alicia Berenson lives a seemingly perfect life with her fashion photographer husband, Gabriel Berenson.
But when Gabriel is brutally shot by the woman she once trusted, things go haywire.

What's more interesting?
Ever since that incident, Alicia hasn't uttered a single word, eventually being condoned to the position of a silent patient. This domestic tragedy quickly turns into a national sensation, leaving everyone wondering why Alicia committed such a heinous act.
That's where Theo Faber, a criminal psychotherapist, comes in, and guess what – he is determined to unravel the mystery of Alicia's silence and uncover the truth behind her shocking crime.
Will he be successful?
Let's find out in this discussion guide, where we'll have a look at some book club questions for The Silent Patient and why it's a must-read for anyone looking to understand how the human mind can be both fascinating and terrifying at the same time.
And in case you want to read what the book is about and know my opinion, I have a detailed blog post here – The Silent Patient Book Review.
The post might contain affiliate links. For more information, read our disclosure. Also, these questions contain spoilers.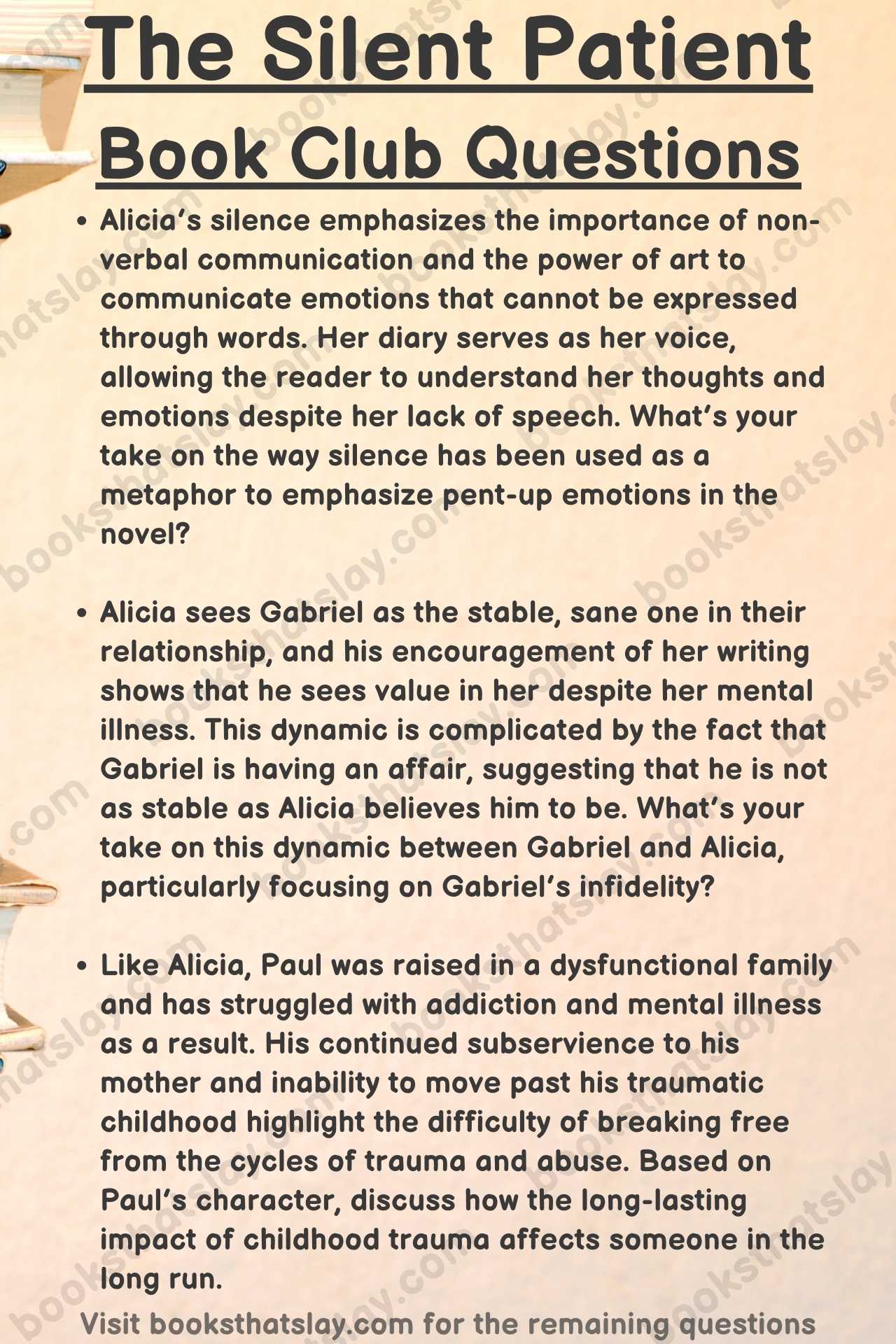 The Silent Patient Book Club Questions
Theo sees himself in Alicia and believes he can save her from her own trauma. This belief in his ability to rescue others is likely a result of his unresolved childhood trauma and the sense of powerlessness he felt as a child. He also feels a deep sense of guilt for not being able to save his own mother from his abusive father, and he projects this guilt onto his work with Alicia.
Do you think this obsession with rescuing Alicia leads to Theo's downfall? Also, did becoming emotionally and physically aggressive with Alicia actually reveal that Theo has not truly overcome his own demons of the past?


Alicia's silence emphasizes the importance of non-verbal communication and the power of art to communicate emotions that cannot be expressed through words. Her diary serves as her voice, allowing the reader to understand her thoughts and emotions despite her lack of speech.
What's your take on the way silence has been used as a metaphor to emphasize pent-up emotions in the novel?


Kathy's affair with Gabriel shatters Theo's sense of self-worth because he idolizes her as someone who rescued him from his own traumatic childhood. This provided Theo with a sense of love and stability, unlike how he was brought up with. The discovery of her betrayal revealed that his illusions regarding their marriage were unfounded and that he was not as normal as he believed himself to be.
Discuss.


The reference to the Greek legend Alcestis, the beautiful daughter of Pelias, king of Iolcos, takes an exciting turn in the novel. Like Alcestis, Alicia is mute with rage and hurt, having the men who should have loved and protected her betray her instead. Alicia's silence also aligns her with the Greek heroine Alcestis, who sacrifices her own life for her husband.
Why do you think Alex Michaelides used an ancient mythological reference in this novel? Did it provide a sense of depth in the writing style?

Alicia sees Gabriel as the stable, sane one in their relationship, and his encouragement of her writing shows that he sees value in her despite her mental illness. This dynamic is complicated by the fact that Gabriel is having an affair, suggesting that he is not as stable as Alicia believes him to be.
What's your take on this dynamic between Gabriel and Alicia, particularly focusing on Gabriel's infidelity?


Like Alicia, Paul was raised in a dysfunctional family and has struggled with addiction and mental illness as a result. His continued subservience to his mother and inability to move past his traumatic childhood highlight the difficulty of breaking free from the cycles of trauma and abuse.
Based on Paul's character, discuss how the long-lasting impact of childhood trauma affects someone in the long run.


The novel shows how jealousy can affect personal relationships and prove to be a destructive force, leading characters to act irrationally and in an impulsive manner. For example, Theo's jealousy of Gabriel drives him to become overly involved in Alicia's therapy and to act inappropriately toward her. Similarly, Max's jealousy of Gabriel leads him to pursue Alicia romantically, despite knowing that she is married.
Do you think it was this jealousy itself that revealed the characters' insecurities and vulnerabilities, as well as their hidden desires and motivations?


Alicia's silence and apparent lack of emotion are initially interpreted as evidence of her guilt or manipulation rather than symptoms of trauma and mental illness. Similarly, Theo's struggles with anxiety and PTSD are dismissed or minimized by others, who see him as strong and competent due to his profession as a psychotherapist.
Discuss how this book showcases the stigma surrounding mental illness being harmful and counterproductive, eventually preventing individuals from getting the help and support they need to heal.

The novel challenges the idea of presenting a brave face to the world by showing the negative consequences that can come from hiding one's problems. The characters who try to maintain this facade end up harming themselves and others around them. Additionally, the novel suggests that seeking help and being vulnerable is a strength rather than a weakness.
Do you agree? If yes, discuss.


By building the narrative around Alicia and her descent into madness, the novel creates a sense of inevitability and doom, which is a hallmark of works showcasing tragedy as a prime theme. This alignment with the tragic genre adds depth and complexity to the novel and creates a sense of weight and significance to Alicia's story.
Discuss.
---
If you like this list of questions, here are some other options for you to explore –
The Invisible Life of Addie LaRue: Addie LaRue, a young woman in 18th-century France, strikes a deal to live forever but becomes cursed to be forgotten by everyone she meets. Centuries later, she encounters a man who remembers her, altering her extraordinary journey through time and leaving an indelible mark on her world.
The Invisible Life of Addie LaRue Book Club Questions
The Golden Couple: In the seemingly perfect lives of Marissa and Matthew Bishop, a devastating affair threatens to unravel their marriage. With the help of unconventional therapist Avery Chambers, hidden secrets emerge, and their world hurtles toward a collision course.
The Golden Couple Book Club Questions
The Nightingale: In the midst of war-torn France, two sisters embark on journeys of love, sacrifice, and resilience. Vianne must shelter the enemy to protect her family, while Isabelle joins the daring Resistance. Together, they discover their true selves amidst the chaos of World War II.
The Nightingale Book Club Questions
The Neighbor's Secret: In the seemingly idyllic Cottonwood Estates, neighbors come together for the Cottonwood Book Club, united in their belief that their own lives are free from darkness. But as twisted secrets unravel and acts of violence escalate, the ultimate sacrifices of parenting will be made to protect their children, no matter the cost.
The Neighbor's Secret Book Club Questions
The Exiles: Step into the gripping world of The Exiles, where a young governess, Evangeline, finds herself pregnant and banished to a treacherous journey on a slave ship to Van Diemen's Land. Bound by friendship, Evangeline, Hazel, and Mathinna navigate a new society, seeking redemption, freedom, and unbreakable bonds.
The Exiles Book Club Questions
Don't Forget To Rate This Book. Your Rating Counts!!
[Total Votes:

0

Average Rating:

0

]