9 Detailed The Dutch House Book Club Questions For Discussion
Once in a while, a story comes along that captivates us with its complexity and depth, leaving us emotionally invested in the characters and their journey.
"The Dutch House" by Ann Patchett is one such story, a dark fairy tale of two siblings struggling to come to terms with their past and find their place in a world of privilege and power.
Set over five decades, this gripping novel follows the lives of Danny and Maeve, two wealthy siblings whose unbreakable bond is their only solace as they confront the ghosts of their past.
In this discussion guide, we'll have a look at some book club questions for The Dutch House and why it's a must-read for anyone looking to understand that siblinghood and forgiveness are something that sounds easy to implement but difficult to execute.
The post might contain affiliate links. For more information, read our disclosure. Also, these questions contain spoilers.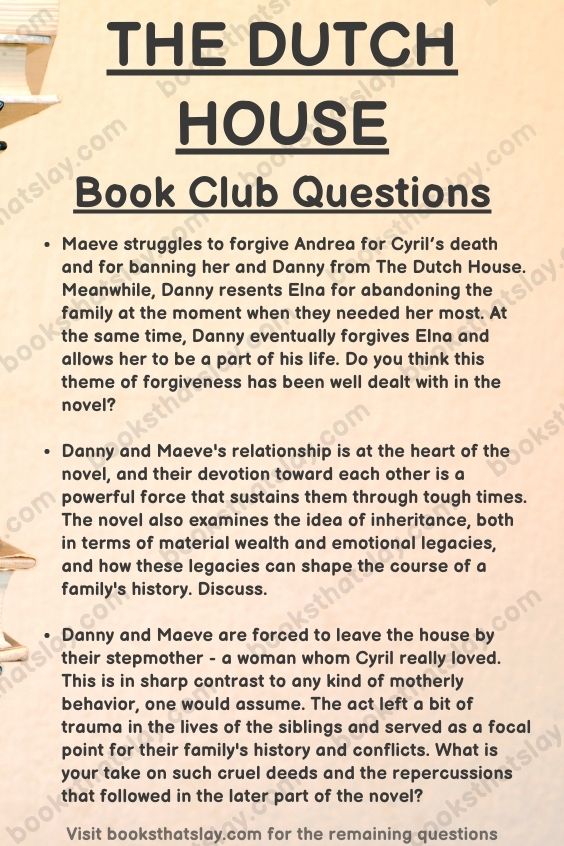 Book Club Questions for The Dutch House
The Dutch House serves as a physical representation of the Conroy family's wealth and status, as well as a symbol of their dysfunction and trauma. The house's lavishness contrasts with the austere childhoods of Cyril and Elna, which they both try to leave behind in different ways.
Do you agree with this metaphorical representation of the book title?


Danny and Maeve are forced to leave the house by their stepmother – a woman whom Cyril really loved. This is in sharp contrast to any kind of motherly behavior, one would assume. The act left a bit of trauma in the lives of the siblings and served as a focal point for their family's history and conflicts.
What is your take on such cruel deeds and the repercussions that followed in the later part of the novel?


Danny and Maeve's relationship is at the heart of the novel, and their devotion toward each other is a powerful force that sustains them through tough times. The novel also examines the idea of inheritance, both in terms of material wealth and emotional legacies, and how these legacies can shape the course of a family's history.
Discuss.


Elna's absence from the family is a key factor in the Conroy family's dysfunction and trauma. Elna's decision to leave the family and do charity work in India is a rejection of the materialism and superficiality of their lifestyle, and it leaves a lasting impact on Danny and Maeve. She becomes a kind of mythic figure in the novel, with Danny and Maeve both idealizing and demonizing her in different ways.
How vital a role do you think this eccentric character plays in the novel?


The novel's three-part structure allows the reader to see how the characters and their relationships evolve over time. Each part covers a different period of the Conroys' lives, and the changes in their circumstances and relationships are reflected in the narrative structure. The structure also allows the reader to gain a deeper understanding of the characters' motivations and desires, as they are revealed over the course of the novel. Additionally, this creates a sense of nostalgia and reflection as the characters look back on their past and come to terms with their present.
Which part was your favorite and why?


Maeve is a strong, independent, and intelligent woman who takes on the role of caretaker for her younger brother Danny after they are expelled from the Dutch House by their stepmother Andrea. Throughout the novel, Maeve is motivated by a deep love for her family and a desire to protect Danny from the pain and trauma of their past. She is also driven by a need for justice and revenge against Andrea, who she believes has wronged her family.
What other traits of Maeve did you like as you read through the novel?


The novel suggests that money can bring comfort and security, but it does not necessarily bring happiness. The Conroys are a wealthy family, but they are haunted by their past, and their relationships with each other are often strained. The Dutch House, while beautiful and grand, is also a source of pain and anxiety for the family.
Discuss.


Patchett's writing style is often described as elegant and understated, with a focus on character development and emotional depth. Her prose is precise and measured, with a keen eye for detail and nuance. The use of first-person narration from Danny's perspective allows the reader to get inside his head and understand his motivations and feelings while also allowing for a sense of distance and objectivity.
What is your take on her writing style and what could she have improved in the novel to make it perfect – if you think it was not perfect?


Maeve struggles to forgive Andrea for Cyril's death and for banning her and Danny from The Dutch House. Meanwhile, Danny resents Elna for abandoning the family at the moment when they needed her most. At the same time, Danny eventually forgives Elna and allows her to be a part of his life.
Do you think this theme of forgiveness has been dealt with well in the novel?
---
If you liked this set of book club questions, here are some other options for you to explore.
The Magnolia Palace: In a stunning Gilded Age mansion, secrets, betrayal, and murder intertwine the lives of two women. From the Spanish flu outbreak to a modern-day hunt, their fates collide in a web of intrigue and danger. Can they unravel the truth before it's too late?
The Magnolia Palace Book Club Questions
The Dictionary of Lost Words: Pip Williams tells the captivating tale of Esme, a girl who discovers the missing word 'bondmaid' from the Oxford English Dictionary. In a world where women's voices are overlooked, she embarks on a secret quest to create her own dictionary, uncovering the power of language along the way.
The Dictionary of Lost Words Book Club Questions
Atlas of the Heart: This masterpiece by Brene Brown is a captivating journey through human emotions, offering actionable tools and a language to foster meaningful connections. It's an empowering atlas that guides us to understand, choose, and fearlessly navigate the depths of our own hearts.
Atlas of the Heart Book Club Questions
We Begin At The End: In a coastal California town, a devoted chief of police and a rebellious thirteen-year-old girl navigate a web of family, betrayal, and survival as they confront the past and strive to keep their unconventional family intact. Chris Whitaker's moving tale celebrates the triumph of love and the resilience that humanity can uphold.

We Begin At The End Book Club Questions
The Housemaid: In a quest for a fresh start, a woman joins the enigmatic Winchester family. As she uncovers their dangerous secrets, she realizes her own hidden capabilities. A twist-filled thriller, perfect for fans of psychological suspense, that will keep you riveted till the last page.
The Housemaid Book Club Questions
Don't Forget To Rate This Book. Your Rating Counts!!
[Total Votes:

0

Average Rating:

0

]